[KGVID width="600″ height="338″]https://marcommnews.com/wp-content/uploads/2015/10/Lloyds_Florist_30s_MASTER.mp4[/KGVID]
Lloyds Bank is celebrating the country's small business owners, from florists to electricians, with a new campaign to launch its Business Current Account.
The campaign, created by RKCR/Y&R, features three online films showing different small business owners getting their time in the spotlight that Lloyds Bank thinks they deserve.
The first film, "Florist", shows paparazzi clamouring to get a picture of a celebrity as she walks out of a florist shop. Meanwhile the shop owner, quietly carrying the star's flowers to her car, is initially not the focal point. At the end of the film, we see the florist in a studio finally having her moment of recognition in front of the camera.
The campaign aims to show that the new Lloyds Bank Business Current Account is designed to support Britain's small businesses – the people we should be really be celebrating.
"Florist" launches on Monday, October 26th, followed by the two other VoD films, "Electrician" and "Courier". The campaign also includes a 40" radio spot voiced by Nick Hewer, national press and digital display.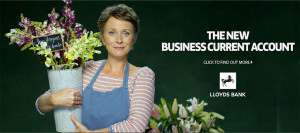 Richard Carpenter (Head of B2B Marketing, Lloyds Banking Group):
"We believe small businesses play an incredibly important role in the UK economy, and this is often overlooked. In this campaign we wanted to first and foremost recognise and celebrate the contribution small businesses make, and at the same time demonstrate how our new current account delivers value, simplicity and shows our commitment to the prosperity of this brilliant British business segment. RCKR/Y&R in combination with some excellent media planning have truly delivered the right balance of a highly targeted campaign with the right creative standout and message."
CREDITS:
Agency: RKCR/Y&R
Creative Director: Marc Hatfield
Art Director: David Hillyard
Copywriter: Gavin Kellett
Business Director: Toby Green
Account Director: Olly Boden
Agency Producer: Kate Manning
Photographer/ Photographic Agency: Seamus Ryan / Morgan Lockyer
Director/ Production Company: Alex Winckler /Archer's Mark
Producer: Selena Cunningham
DoP: Carl Burke