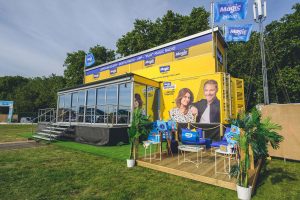 Following success supporting the Boyzone tour in January, the Magic Radio Bus is arriving at 'Barclaycard presents British Summer Time' in Hyde Park between the 5th and 14th of July, with the activation conceived and run by pop-culture marketing agency, Experience12. 
Magic Radio and Experience12 have a long-standing collaborative relationship and the agency was tasked with bringing to life an experience that will drive brand awareness, increase listenership and boost ATSL (average time spent listening) figures.
Magic and Experience12 worked closely to create the Magic Radio Bus creative concept, which will host live broadcasts from 'Barclaycard presents British Summer Time', led by famous radio presenters; Ronan Keating, Harriet Scott and Emma B. On-air activities and garden games will also available for the public to engage with, including: quizzes, interviews, giant Jenga and giant Connect Four. The Magic 'Street Team' will also be giving away 3,000 branded refillable water bottles, as the festival goes plastic free for the first time this year.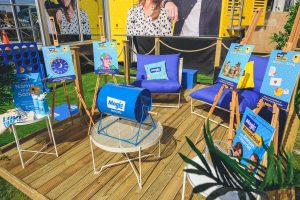 A star-studded line-up of headline acts will perform over the course of the event. Between the 8th and the 11th July, 'Barclaycard presents British Summer Time' will be open to the public for Open House days which will showcase live music, outdoor cinema, yoga, street food, pop up bars, children's theatre and more.
Chris Whittle, Founder and MD of Experience12 says: "After the success of January's event, we were delighted when Magic Radio asked us to update the Magic Bus creative concept for the festival scene and bring it to 'Barclaycard presents British Summer Time'. Each year the event attracts an ever-growing audience who are looking to make the most of entertainment in the summer sunshine (hopefully!). We've worked closely with the team at Magic Radio to bring new, engaging elements to Hyde Park. The fact this year the festival is going plastic-free gave us the opportunity to offer freebies to fans, but also help the environment."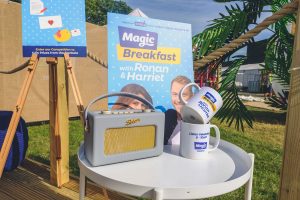 Sebastian Clark, Head of Marketing at Magic Radio adds: "The Magic Radio audience are experience seekers and our research tells us that more and more are flocking to live music events, with 40% of all festival attendees being 35-44-year olds. With its line-up of many of our core artists, 'Barclaycard presents British Summer Time', in Hyde Park felt like the perfect festival to partner with, and an opportunity to connect with both existing and potential new listeners on the ground. Through their considered activations, Experience12 expertly help bring the station to life and we're excited to see this in action this month."
Will Dowdy, VP Global Partnerships at AEG Presents continues: "Creating the best fan experience at 'Barclaycard presents British Summer Time' is always a priority for us. This year, we're delighted to be working with Magic Radio on the first ever live radio broadcast at the event. They are supporting our pledge to reduce plastics in Hyde Park, which demonstrates our strong brand partnership. I've no doubt that the activity Experience 12 has created, whilst showcasing Magic Radio's on-air talent, will be a real hit with our music fans throughout the festival." 
Source: Experience12