M&C Saatchi has unveiled an integrated campaign for Fujifilm instax targeting Generation Z and Millennials to encourage them to 'Fill the world with one‐offs' and celebrate the themes of 'love', 'dance' and 'laughs'.
The entertaining campaign launched last night with prime time TV spots and also includes print (including an NME sponsorship and cover wrap), key digital OOH sites, social and cinema.
With the resurgence of instant film photography in full motion and imagery being such an important part of people's lives now, the campaign aims to build upon this and send thousands of real, original images out into the world. With each image being unique it allows every individual the chance to express themselves in different ways, showing their diversity through original images and celebrating their own creative expression.
Each ad centres on friends enjoying themselves at a house party, either laughing, loving or dancing. The friends are then snapped by an instax, causing them to freeze in time and rise up out of the party, through the ceiling and out of the camera as a photo – mirroring the motions of an instax camera.
Mad Ruffian were production partners on the campaign, leading the casting and creating the CGI and post production elements.
Justin Tindall, Chief Creative Officer at M&C Saatchi, said: "The instax brand mission is to 'Fill the world with one‐offs'. As such we felt strongly that every ad should reflect the unique enjoyment that an instax camera can bring."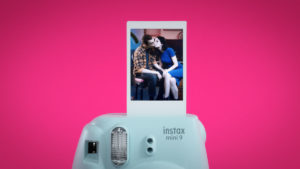 Karina Thomsen, instax Marketing Manager at Fujifilm, said: "In a world that is so obsessed with photos, we wanted to have a campaign that stood out and demonstrated the uniqueness of our brand. Since the launch of the 'Fill the world with one‐offs' campaign M&C Saatchi has successfully achieved this, with the latest piece of work highlighting this further."
The ads are an evolution of the 'Fill the world with one‐offs' campaign that ran earlier this year with the sponsorship campaign for New Girl on E4. The campaign will be rolled out across all of Europe, with the Americas and Canada also in talks with M&C Saatchi.
Source: M&C Saatchi London