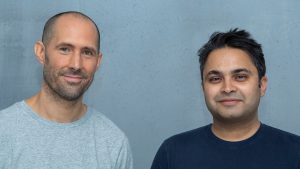 McCann London has promoted the creative directors behind its wave of stellar Xbox campaigns, Sanjiv Mistry and Jamie Mietz, to Executive Creative Directors of m:united//McCann London.
Mistry and Mietz were among the first creative hires under McCann London's Chief Creative Officers Rob Doubal and Laurence Thomson, and since leading the Microsoft business have helped position McCann London amongst some of the most respected and awarded agencies, with campaigns like 'Survival Billboard' and 'Football Decoded'.
The creative duo also spearheaded 'The Fanchise Model' for Xbox Design Lab, which won the eCommerce Grand Prix at Cannes this year and just bagged a Campaign Big Award in the Retail & Restaurants category and a Grand LIA for Digital.
Adding to their accolades, Mistry and Mietz were this year named amongst the top 10 creative directors in the world for the second time by the Cannes Lions Global Creativity Report. Between them, they have served on juries for the Andys, Clios and D&AD New Blood Black Pencil.
McCann London's Chief Creative Officers, Rob Doubal and Laurence Thomson said: "Sanjiv and Jamie have pulled out all the stops on their work for Microsoft. They've led the account with maturity and creativity, producing one innovative campaign after another and winning a frankly crazy 30 Cannes Lions in 3 years. As ECD's for m:united//McCann London we look forward to them leading the creative for our Microsoft accounts."
Source: McCann London