McDonald's and Leo Burnett London have launched a surreal new campaign, 'We Deliver', which announces the UK-wide roll out of McDelivery by celebrating the unique thrill of enjoying a McDonald's at home. The campaign highlights a host of novel, bizarrely satisfying eating rituals that McDelivery, via Uber Eats, now makes possible.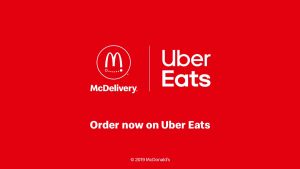 The hero 30" film takes us on a journey across a variety of British homes (accompanied by catchy rhymes) to find different people enjoying iconic McDonald's products in places they've never experienced before – from 'Fillet-O-Fish from a dish' to 'nugs on rugs'.
The campaign is brought to life across multiple channels, targeting consumers who love McDonald's and love takeaways for the convenience of home delivery – but have never been able to combine the two. It seeks to establish McDelivery across all key takeaway moments – with a focus on dinner time but also highlighting early-mornings and all times in-between.
Supported by social, digital and radio, the campaign uses a whole host of digital channels to target moments when people are thinking about a takeaway with personalised messages.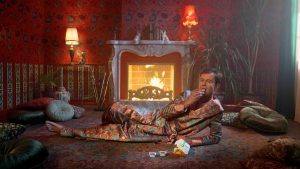 The campaign also uses A Million Ads to enable the radio spots to dynamically engage with consumers across digital audio. These ads tailor messages based on various data triggers – such as changes in weather, time of day, location and device – via hundreds of unique ads seamlessly stitched into the rhyming pattern. Dynamic video on social also works to deliver the right message, at the right time.
Ben Fox at McDonald's, said: "Our new McDelivery Campaign announces that you can now get your favourite McDonald's food items delivered for you to enjoy, wherever, whenever and however you chose, from over 900 restaurants across the UK and Ireland."
Graham Lakeland at Leo Burnett London, said: "We're all so familiar with McDonald's, yet the idea of eating it at home is somehow strange. We wanted to embrace this oddity, creating a campaign that explores all the exciting possibilities that await us now McDonald's offer delivery."
Source: Leo Burnett London