Great Guns director, Peter Dietrich, launches a bah humbug festive campaign for Greek retailer, Jumbo. The one-and-a-half-minute film, titled 'The Collector', evokes classic Victorian Christmas stories with a twist.
The film, set in the Victorian era, follows a rich, spiteful old man with a curious obsession for collecting. Night after night shady henchmen arrive with truckloads of hessian sacks under the cover of darkness.
Finally, it is revealed that he has filled his house floor to ceiling with thousands of 'Jumbo' bags – an iconic sight at Christmas across Greece – so that no one will be able to do their festive shopping. In a twist however, we find out his evil plan may not be quite as fool-proof.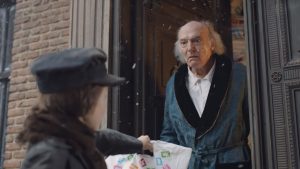 Director Peter Dietrich, who is represented by Great Guns in the UK and Asia, shot the film at an outdoor studio near Bucharest over three days. The team shot with two cameras simultaneously, using specialist equipment such as a techno crane, gimbal, and a night balloon light.
He worked closely with creative agency, Pollen, and production company, TopCut-Mondiano, to bring the idea to life: "The script offered a wide range of opportunities for striking visual moments and storytelling. To take full advantage of this, I took a cinematic approach with this film as I wanted to make it look more a short film than a traditional advert. This project called for a careful balance in terms of shots and also thematically. We used a balance of intimate shots and impressive wide shots to further the narrative. We were also aiming for a seamless mixture of contemporary moments and larger-than-life fairy-tale elements."
Commenting on the big reveal, Peter says: "Jumbo bags are a guaranteed sight in Greece at Christmas, as it's a key destination for festive shopping. The Creative Director was especially keen to make the hero's bag collection as impressive as possible. It was particularly important for the huge piles of Jumbo bags to all be set up and shot in-camera, rather than in post production. We carried out many tests to prepare the scene and make sure the bags looked right."
'The Collector' is now live on Jumbo's social channels.
Source: Great Guns