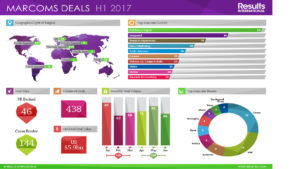 New research unveiled on July 17, has shown that the events & experiential sector is seeing a huge rise in interest from buyers: there were 35 deals in H1 2017, more than double the number (14) in the same period last year. It was the biggest half-year for deal volumes seen in the last three years.
Targets in this sector acquired globally in H1 included agencies such as MayNineteen, Wasabi Atelier Expérientiel, Playnetwork and FullSense.
The analysis was carried out by Results International, the leading international advisor on M&A and fundraising to the global marketing, technology and healthcare sectors. Overall there were 219 marcom deals in Q2, the same as the previous quarter, and 438 in H1 2017.
Dentsu was the most active buyer in the first half of the year with 16 transactions, of which 4 were in Q1, jumping to 12 in Q2. This continues a trend from 2016 where Dentsu was the most active acquirer in the sector completing 43 deals.
In addition, Accenture was most acquisitive of the management consultancies and completed five marcoms deals in Q2 after just one in Q1. These included the acquisitions of US-based mobile application design and development business Intrepid Pursuits and e-commerce solutions provider Media Hive. Accenture continues to expand capabilities across this space and the Intrepid deal very much expands its mobile customer experience delivery skills.
The research also found that in Q2 the largest subsector was once again full-service digital with 33 deals, representing 15% of marcoms M&A. This was the joint-highest quarterly deal volume in this sector in the past three years, matching the 33 deals seen in Q3 2016.
It was followed by integrated (22 deals, 10%) and with events & experiential in third (17 deals, 8% of all activity).
Full-service digital deals included four acquisitions made by WPP across H1, most recently acquiring Germany-based Catbird Seat and Spain-based The Cocktail Experience, both in June. Dentsu made two acquisitions: a Turkey-based agency SesliHarfler in May and Switzerland-based blue-infinity in January, while Accenture acquired SinnerShrader for $68.6m in February.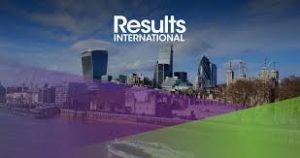 Mark Cox, director at Results, comments: "Digital agencies still rule the roost for overall deal volumes as the holding groups seek a combination of shoring up their offer against new entrants, keeping up with the pace of technology developments and developing new markets. In addition, interest in events & experiential is greater than we've seen for years. Brands are increasingly trying to offer best customer experiences as they try to target younger consumers, drag people away from their screen and cut through a highly fragmented marcoms landscape. That's creating more demand for agencies able to offer these more in-depth customer experiences, on top of the continuing need for buyers to reinforce their digital credentials."
The research also suggested that the UK marcoms M&A market is increasingly focused on domestic deals, with fewer cross-border acquisitions of UK targets. There were a healthy 55 deals involving UK-based agencies in H1 2017, but only a quarter of them (27%) came from international buyers. This is a drop from H1 2016, when 38% of UK acquisitions were cross-border.
At the same time, Western Europe saw an increase in buyer activity from H1 2016 to H1 2017, with 128 deals in H1 2017 compared to 106 deals in H1 2016. A significant acquirer in this space was Serviceplan, one of the largest ad agencies in Germany closing 4 deals in Europe to build out content and brand experience offers. Other active acquirers from this region were Havas and Publicis who closed 4 and 5 deals across H1 2017 respectively.
Mark continues: "It's unclear if Brexit uncertainty is causing fewer international buyers to look to the UK, but other hubs like Paris and Berlin are certainly trying to attract a larger slice of the tech and marcoms pies and this could be reflected in deal geographies."
It found that 30% of all deals were cross-border in Q2 2017, versus 36% in Q1 2017. APAC buyer activity, for example, dropped when comparing H1 2017 to H1 2016 due to a fall in the number of Chinese buyer deals; 7 in H1 2017 vs. 23 in the first six months of last year. Currency restrictions in China remain in place and appear to have been the principal driver of that reduction.
Mark concludes: "Despite the slowdown in China outbound activity, Asian acquirer interest outside their home markets in tech and marcoms businesses is healthy and should come as no surprise; heightened and empowered consumerism, mobility driving new behaviours and local brands winning in the home markets are a few key drivers."
Source: Results International