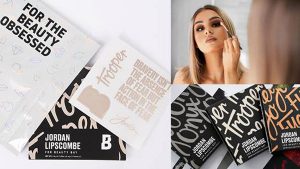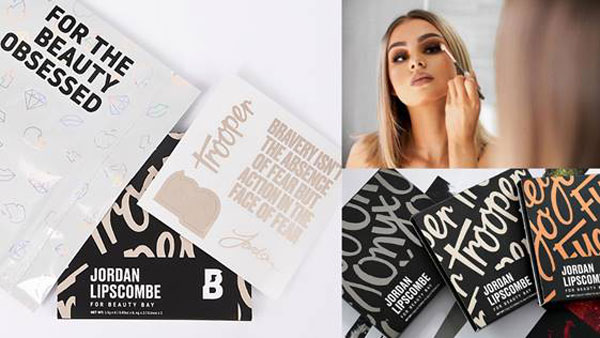 Manchester design studio MERó has created bespoke branding and a new packaging design for Beauty Bay's exciting collaboration with popular beauty, fashion and lifestyle vlogger Jordan Lipscombe.
The online beauty destination has teamed up with YouTube star Jordan to create three new eyeshadow and highlighter palettes. It's the first time Beauty Bay has collaborated with a social influencer in this way, working hand in hand with Jordan to design all aspects of the merchandise – from the product itself through to the creative packaging elements.
As Beauty Bay's design partner, and having successfully created Beauty Bay's new brand identity earlier this year, the team at MERó worked closely with Jordan to ensure that all elements of the packaging present with impact across all digital channels – in particular on YouTube and Instagram.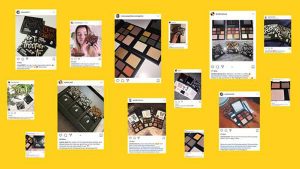 The packaging designs include a bespoke hand rendered type face and Jordan's signature, plus branded stickers are included within each palette that allow consumers to customise their products or use to accessorise mobile devices.
Key to the design process was ensuring that the products reflect both Beauty Bay's brand identity as well as social influencer Jordan's personality, and that the overall visual impact resonated with today's Gen Z audiences who demand brave bold visuals and authenticity.
"It's product packaging designed for the small screen. Every element has been considered to ensure it looks great on Instagram, YouTube, in eCommerce channels and when it lands in the consumer's hands. We've captured all of the must-have factors for designing for Gen Z, taking key learnings from when we developed the new brand identity for Beauty Bay, and added Jordan's personal style that her 1.4m YouTube subscribers will instantly recognise," says Andy Culbert from MERó.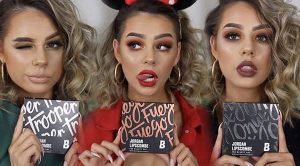 "Partnerships like this need to be based on a solid brand positioning that is shared by both parties and this has significantly helped with this project with Jordan, who genuinely supports Beauty Bay's brand ethos and positioning. Creating the brand assets in partnership has resulted in a true collaboration and not just 'endorsement'. This understanding and passion can be seen in Jordan's YouTube film announcing the collaboration. By being genuinely involved in the end-to-end production of the new range, backed by a solid understanding of Beauty Bay's brand position, her audience can see that she's co-created something unique and special to her."
Source: MERó