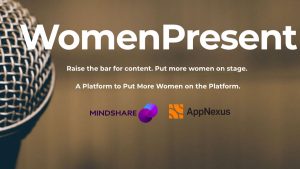 Mindshare UK, part of WPP, is the first agency to join WomenPresent's mission to increase the 'podium share' of women at public and private industry events. The organisation hopes to increase diversity and support the achievement of women globally.
As part of Mindshare's commitment to the initiative, the agency has been influential in signing up leading independent advertising technology company, AppNexus to raise awareness and provide additional funding for the platform. WomenPresent and Mindshare are looking for a further media partner to sponsor the initiative.
All parties have pledged to avoid all-male panels or "manels" at company run events and increase diversity across keynote and other individual speaking opportunities. One key measurement is the ratio of female-filled speaking opportunities to total panel positions and speaking opportunities secured.
WomenPresent is currently developing a technology platform to connect female expert speakers with event managers, thereby removing all the excuses for "manels". Functionality will support individual profiles and allow women to share their speaking experience and expertise in granular subject areas, while helping event managers post speaking opportunities and search for speaking talent. The team is now looking for the last push of funding to initiate the platform launch.
Joanna Lyall, Managing Director, Mindshare UK, explains: "This year, International Women's Day comes at a time where all companies are being scrutinised more than ever before on gender imbalance. At Mindshare we are fully committed to improving diversity across the agency, but we recognise that more can be done to promote women across the industry. Partnering with WomenPresent, we are making our pledge to ensure that more brilliant women get the opportunity to take the stage at conferences and events."
Tom Jenen, Co-Founder, WomenPresent, comments: "Better diversity means better content, full stop. Cadi, Susan and I started WomenPresent to make the strategic thinking and dynamic leadership that we see from women every day more visible and recognised. Mindshare's incredible support will help us reach that goal much faster."
Antoinette Hamilton, VP, Diversity, Inclusion and Community Experience, AppNexus, said: "In recent months, AppNexus has taken proactive steps to ensure that the events we host, and the panels we convene, reflect meaningful gender parity. We're deeply committed to the proposition that women and other underrepresented groups should be given not just a seat at the table, but a voice in the conversation. We're very pleased to join with WomenPresent in these efforts."
Source: Mindshare