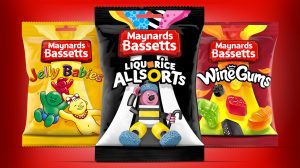 Mondelez International has appointed VCCP as their lead strategic and creative agency for Maynards Bassetts. The agency will look after the brand's entire portfolio in the UK including Wine Gums, Jelly Babies, Liquorice Allsorts, Sports Mix and the recently launched Soft Jellies range.
VCCP's appointment on Mondelez's iconic candy brand follows the agency's selection as lead global ad agency for Cadbury in June 2017.
On appointing VCCP, Henrik Boermans, Associate Marketing Director Refreshing and Joyful Candy UK & Ireland, Mondelez International said, "Maynards Bassetts is such an iconic brand within the UK confectionery category with exciting developments ahead, so we are really thrilled to start this collaboration with VCCP and further strengthen the equity of our brand."
David Boscawen, Group Managing Director VCCP added, "We are absolutely thrilled to be working with Maynards Bassetts. This appointment cements a deeper working relationship between VCCP and Mondelez International which we are delighted with."
VCCP will be working with Maynards Bassetts from April 2019.
Source: VCCP