Mothers are strong, compassionate, nurturing and brave. Just as every colour has its different shades, so does motherhood. City Centre wanted to uncover them all. The regional arm of creative advertising conglomerate, Mullen Lowe MENA, recently launched and executed a two-day activation throughout all City Centre malls in the region.
Shoppers were invited to express their feeling towards motherhood through a set of key questions that would spark their heartfelt responses. The shopper's answers were analysed using an algorithm. Each of their words were reinterpreted and allotted a predefined colour. The campaign also featured an online experience, which ran in tandem with the mall activation, in order to collect more data.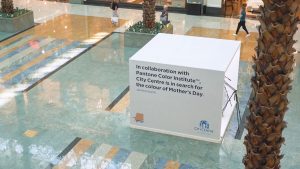 Once all the data was collected, City Centre partnered with colour experts, the Pantone Colour Institute in New York. Five unique colours were selected and shortlisted to represent the colour of Motherhood.
These colours were then uploaded online and shoppers voted on which colour they thought was the best match. Finally, the favoured Pantone colour selected to symbolise the essence of motherhood was chosen as 'Pink2337C.'
On Mother's Day, the Pantone colour was presented to the media and a communication strategy was initiated to raise awareness of the new colour, this included social media. It was not surprising that a shade of the colour pink was chosen to represent motherhood, one of the strongest bonds ever known, in celebration mothers everywhere.  
Source: Mullen Lowe MENA