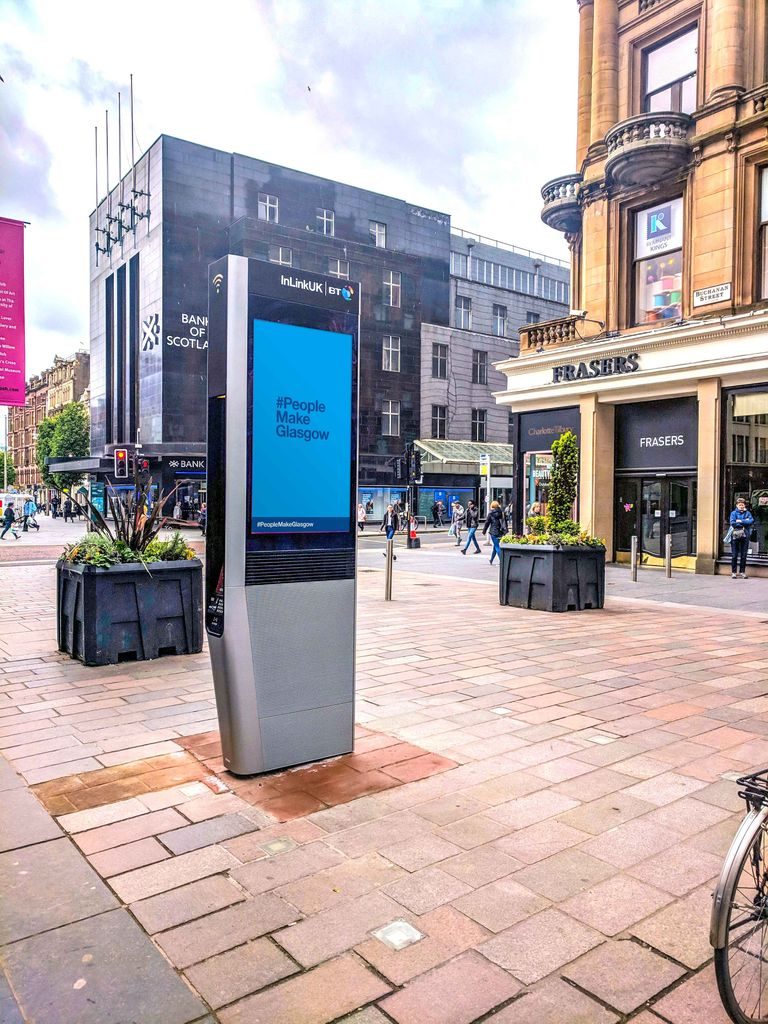 Primesight announced the installation of InLinks in Glasgow with brands and marketers being the first to access the technology in Scotland, ahead of a roll out to a further five cities across the UK.
InLinks are fully-accessible community structures that are helping to connect and improve local streets in urban centres. The first InLinks have been installed in Buchanan Street and Argyle Street where residents, visitors and local businesses will soon be able to access free ultrafast Wi-Fi, make free calls to UK mobiles and landlines, and charge their smartphones.
With nearly 150 InLinks, equating to nearly 300 digital screens, already in place across eight London boroughs and in the city of Leeds, this is the first time the devices will be available outside of England.
With a large metropolitan population of 600,000, Glasgow is also a huge economic hub for Scotland and the UK. Last year the city generated more than £20 billion of economic output for the first time, higher than Edinburgh.
The services are available for free with the project funded by advertising revenue generated by the InLinks' digital displays. To date, more than 87 brands have launched campaigns including Facebook, The Guardian, O2, Bulmers, Barclays, Amazon, EE, Huawei, Iceland and Deliveroo.
InLinks give advertisers the ability to hyper target consumers, based on contextual data, to deliver effective campaigns. They also have the fantastic capability of joining brands with content helping to increase the effectiveness of campaigns. Renault is one brand that seized the opportunity. It utilised an augmented reality experience in partnership with Shazam to deliver exclusive content to fans. Being able to take advantage of the Wi-Fi capabilities gave them the perfect platform to embed augmented reality technology creating increased engagement amongst consumers.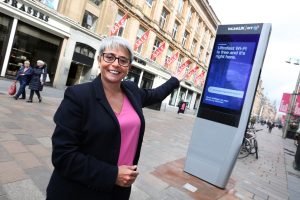 Emily Hyne, Client Director at Talon, said, "We wanted to amplify the launch of Renault's partnership with the newest Star Wars film with a one day, digital out of home campaign to support its cinema and TV activity on May 4th. Given we had interactive creative assets, both the Wi-Fi capabilities and distribution of the InLink network around London gave us the perfect platform to deliver that to as many people as possible on the day of launch."
Glasgow is the latest destination for the InLinks in an expansive roll out plan. Over the next three months, the devices and services will be available in further cities outside of London and Leeds. This will bring 87 InLinks and 174 digital screens online, available for advertisers to use. This will mark the first time that marketers can target consumers across cities throughout the UK. The destinations include:
Gateshead
Newcastle
Southampton
Birmingham
Sheffield
Kensington and Chelsea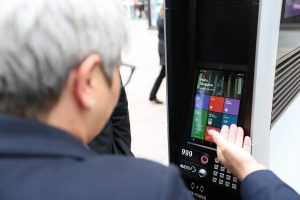 InLinks are widely engaged with by consumers and to date:
More than 100,000 have subscribed to the ultrafast, Wi-Fi from BT
Calls saving over £352,000 have made from the InLinks
76,000GB data has been used, enough to download 12 million songs
Naren Patel, CEO of Primesight, said: "This is a fantastic moment for InLink, BT and Primesight. We're breaking ground in a new country and bringing a totally new and fresh advertising opportunity to national and local brands who want to reach the Glasgow resident. It's even more exciting that this is just the beginning of an ambitious roll out plan that will see InLinks in a city in every country across the UK by the end of the year. Not only do these devices provide a fantastic civic service, they also give advertisers the ability to create hyper-targeted and contextually relevant advertising that works."
Source: Primesight