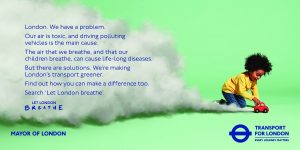 London's toxic air is a serious health issue that affects all Londoners. It leads to many health issues including premature death, heart and lung disease. And it's mainly caused by driving polluting vehicles.
The Mayor of London and Transport for London (TfL) are taking steps to make London greener. Their target is that by 2041, 80% of all journeys in London will be made by public transport, walking or cycling. Pioneering initiatives like the Ultra Low Emission Zone, greener buses and an expanded cycleway network are helping to achieve this ambitious goal.   
But the Mayor and TfL can't do it alone. They need the city's help. Many Londoner's know that air pollution is an issue, but it doesn't seem that urgent. Toxic air is invisible – it's not clear who it affects or how one person can help.
TfL needed to educate Londoner's about the issue and to inspire them to think about how they can help.
Based on the insight that air pollution affects London's most vulnerable residents, including children, the campaign by VCCP, visualises the harmful effects of driving. The juxtaposition of innocent child's play with the harmful pollution makes an emotive, rallying call to Londoners to think about air quality and consider how they can make a positive difference. 
Miranda Leedham, Head of Customer Marketing & Behaviour Change at TfL, said: "Air pollution is a complex, commonly misunderstood issue that affects the health of millions of Londoners every day. This campaign educates London about the problem whilst positively inviting them to be part of the solution. It's an exciting step towards creating a greener, healthier and more sustainable London"
Simon Learman, Creative Director at VCCP added: "By dramatising the environmental risks our children are exposed to every single day, we're making Londoners aware that our city is under attack from an invisible enemy: toxic air. And with driving polluting vehicles being the main cause, we want people to consider alternatives."
This work marks the first chapter in TfL's ongoing 'Let London Breathe' campaign, running across OOH, print, radio & VOD, as well as a media partnership with Metro & Global Radio curated by Wavemaker.
All channels aim to raise awareness and educate Londoners on the issue of London's toxic air, motivating them to consider their own behaviour and contribution to their air quality issue.
By searching 'Let London Breathe', you can find information on the TfL website that explains more about the air quality issue, information about what TfL is doing to address the problem, as well as ideas on what we can all do to make a difference.
Source: VCCP