Nissan has used its 'Intelligent Parking' technology to solve an everyday issue; tidying away chairs in the office.
Alongside its agency TBWA\Hakuhodo, Nissan has built 'Intelligent Parking Chairs' that can sense where they are through four ceiling cameras and move back into their original position via a 360-degree motorised roller system.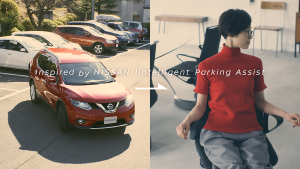 The technology in the cars helps people move into the right parking place using sensors and automatic steering control.
The video aims to demonstrate to non-car enthusiasts, that are perhaps less interested in the nuances of Nissan in-car technology, the advanced tech that goes into the vehicles to help with everyday issues like parking.
According to Nissan, the theme of tidying away chairs will resonate with Japanese consumers, who have a "unique obsession for tidiness."