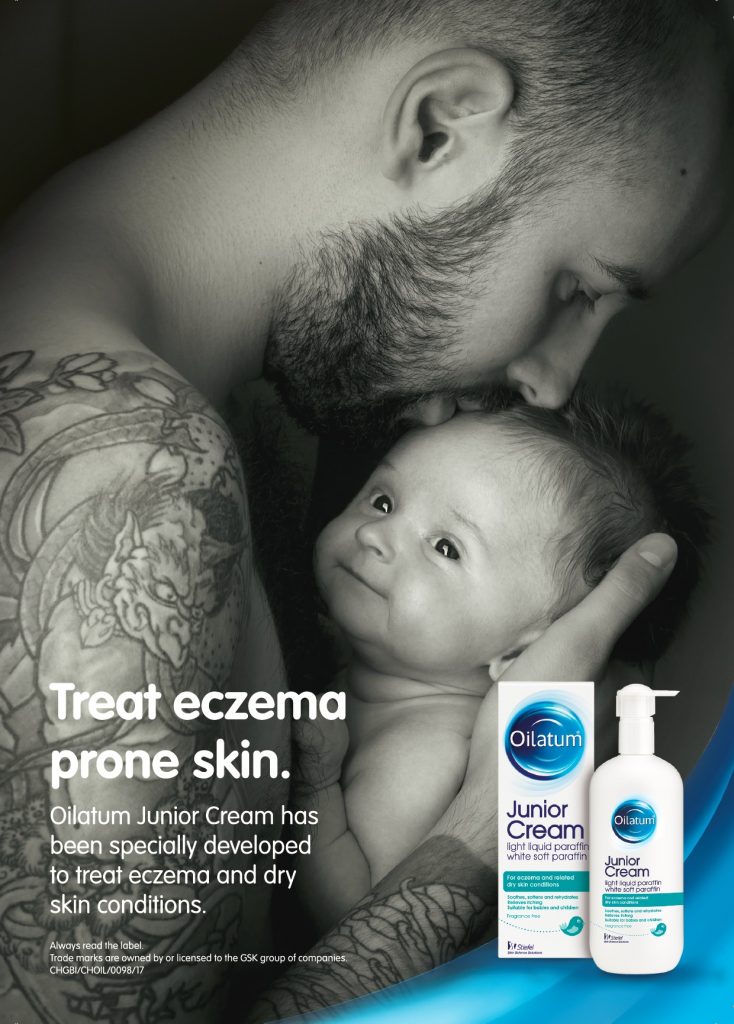 Oilatum, the trusted skin health brand from GSK, is to drive standout and hero diversity in the popular skin health category with a brand-new advertising visual and messaging. The new advert aims to put Oilatum top of mind for parents looking out for effective eczema and dry skin solutions for their children. In a crowded and complex area of skin health, Oilatum has created the advert to ensure all key communications are eye-catching and distinctive to shoppers looking for the efficacious medicated eczema solution.
Appearing from April 2018 across all channels, the campaign, focusing on embracing every touch, will inform shoppers that Oilatum Junior Range provides effective treatment for eczema and is gentle enough to use from day one. In a move away from traditional mother and baby images, the key visual from the campaign will show an intimate and personal moment between a father and son, clearly depicting how protective the father is. The powerful imagery draws parallels with Oilatum, which is suitable for eczema prone skin from day one, and every day after.
James Sharman, Senior Brand Manager, Skin Health at GSK comments, "At the earliest stages of childhood, skin-to-skin contact is important for the health and well-being of a newborn baby, and with a great deal of advertising focusing on a mother's touch, we wanted to showcase the different faces of parenting. At Oilatum, we want to support diversity and show our appreciation for all parents caring for their children."
With online as a frequently used platform to source information (37% of parents search for products online, even though the majority has also sought medical advice); Oilatum will underpin this activity with digital support. Taking place from April 2018, the brand will launch a digital partnership with Amazon and NetDoctor focusing on first time parents, producing relevant branded parenting articles and video content.
With Netdoctor, Oilatum will utilise a range of digital channels to a build a high-reach campaign, to increase awareness of the brand amongst key target audiences. The digital channels will provide eczema-led advice via a series of videos, social (Facebook and Instagram) and brand & functional-led communications which will have click-through to Amazon.
Sharman continues, "Oilatum shoppers are very loyal and we are well regarded on e-commerce sites. Parents may find it difficult to strike a balance between work, family and friends and since more of their time is now spent at home; their social lives are more online. Additionally, millennial mums are shifting away from traditional media with time pressures pushing them towards media offering more 'snackable' content. Therefore, we feel we are in a perfect place to position ourselves as an e-commerce first brand. In 2018, the digital element of the campaign will be key, with digital banners featuring our key visual creative and growing our presence on Amazon and other e-commerce retailers."
Source: GSK