In business, as in life, there's a mantra that says big is better. Big is generally equated with success, with the best in class, power and capabilities. That seems to be the thinking – at least publicly — behind the Omnicom-Publicis merger. The mega-agency now has unparalleled resources that enable it to serve giant global clients with tremendous speed and a buying clout that will squeeze the absolute best deals from the media companies.
It sounds great, unless you are a company whose ad budget is in the under $25 million range, which is where the majority of business-to-business marketers fall. What will these advertisers get from a mega-agency?
They shouldn't expect much.
A $25 million client at a mega-agency simply won't get the fast response and deep understanding, no matter what the top honchos may promises. It's simple economics.  Those resources must go to the $100 million+ clients. A $25 million account would be big and important to many smaller agencies, getting the attention of the agency's top people, as they develop strategic thinking that results in on-target creative executions and careful media planning and buying.
For smaller marketer at a mega-agency, bigger is not better.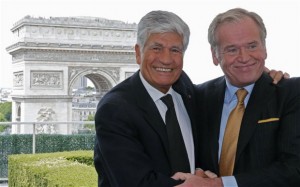 Specialization is a major plus.  Many of the better smaller agencies have grown up with some areas of specialization, often by virtue of their clients' evolution. With specialization comes a deeper understanding of the forces affecting a client's business.  Being smaller, knowledge and real understanding of a specific sector or target audience is institutionalized more broadly and leveraged more often by agency teams.
Also, slower employee turnover of the better smaller shops results in senior people who have extensive experience and the ability to grasp and plan for the "intangibles," things like political environments, key industry/brand influencers, a historical perspective and market context.
Value.  Smaller agencies tend to be outside major metro areas where the high costs of doing business in a large city, for a large organization, aren't present. In a world that is hyper-connected, location is not as important a factor.
At the big agencies, executives tend to be held to strict financial measures and can't be flexible with smaller clients. The giant shops, no matter who they are, are burdened with layers of management – middle managers and up.  Too often, they're more hung up with administrative and process details than with the real creative work. Yet all clients pay for overhead.
Big agency aptitude without the big agency attitude (or cost).  Many smart and creative marketing people who honed their skills at the big agencies have chosen to leave and work at smaller, specialized shops. They bring agency chops to smaller shops.
Outsmart vs. outspend.  This is an old adage, but it gets to the heart of a small agency. With budgets that are sub-$25 million, unless the market size is limited — spend is less important. It's more important that measure, analyze and strategize, especially in a world where advertising as an influential consumer touch point is decreasing, and non-paid digital media is increasing in influence.
The ethical challenge.   The ethics of handling competing clients at different agency brands within the same agency holding company has been a major issue for decades.  It's common for those agencies to set up procedures to supposedly insulate competing clients and their data from each other.
But many ethical questions remain. Which client gets priority access to resources – from creative to planners? How do you protect against leaks – intentional or accidental – of a client's strategy or plans that might be directed against a competitor that's under the same mega-agency umbrella?  Often, the bigger spender wins.
If size and global resources are the key criteria for a client, the larger networks and agencies will always beat smaller ones.  But for the smaller marketers that want depth of industry knowledge, input from top agency execs and the commitment to full and responsive attention, smaller shops win.