The World Cup is coming to London this summer – the CONIFA World Football Cup, that is.
With FIFA's equivalent being taken to Russia – where fans who are black, gay, or just English are not welcome – the organisation representing teams outside the international elite is hosting its World Cup in London for the first time.
The tournament will mark the return of super-ref Mark Clattenburg to English football, having left to head up referring in Saudi Arabia in 2017.
CONIFA, who have teamed up with Paddy Power for the tournament, are the confederation of independent football associations – i.e. the rebels and wildcards of world football who FIFA refuse to recognise. And have announced that their World Football Cup will take place in London, kicking off on May 31st.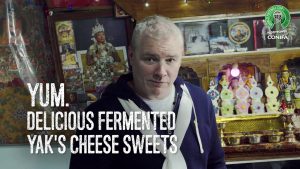 Competing teams will include the exiled people of Tibet, the Zimbabwean region of Matabeleland, and, erm, the tax haven of the Isle of Man.
The organisation's newest member is Yorkshire, who officially became a country when they were recognised by the body in January. To promote the tournament, Paddy Power have released their first ever documentary series – scripted, shot, produced and edited entirely in-house.
The first episode takes Paddy Power himself to Tibet (as in the country, not "to bet") to meet their team, their monks, and even their President.
The series will be updated weekly in the build-up to the kick-off of CONIFA on May 31st, and can be seen on Goal.com's Facebook page (and other socials), Paddy Power's YouTube page (and other socials), and on Paddy Power News.
Spokesman Paddy Power said: "We love the idea of a tournament which represents the underdog, and sticks one up FIFA. English fans have little or no incentive to go to Russia, so we thought we'd give them an alternative right on the doorstep. No millionaires, no prima donnas, just decent lads who are every bit as patriotic as every other international player."
Source:Â Paddy Power