Peru's tourism body, PROMPERÚ, officially unveiled their new international marketing campaign – 'Peru, the richest country in the world' at World Travel Market, the UK's most prominent tourism trade exhibition
'Peru, the richest country in the world' embraces a new concept for the term 'wealth', and reimagines what 'being rich' is really about. The campaign moves away from one-dimensional destination advertising and aims to disrupt the marketplace by presenting a contemporary creative strategy based on a current trend – the new perception that being rich is based on experiences, including travel, not acquiring more material possessions.
The marketing campaign is presented in the form of a documentary-style film following Peru's "trail of riches" to enjoy Peru in all its glorious guises; ancient history, adventure, nature and culture. The campaign's promotional film will be rolled out via digital and social media advertising, with teaser trailers to entice viewers to watch the full inspirational video.
Peru is a country blessed with an abundance of natural, cultural and historical attractions offering visitors genuinely fulfilling experiences. The goal of the "Peru, the richest country in the world" campaign is to further position the country as a multifaceted and diverse world within a world where wealth is not measured in cash, but in experience, discovery and happiness. Peru's 'neo-wealth' proposition fits into the premise that the most valuable things in the world are those hardest to come by.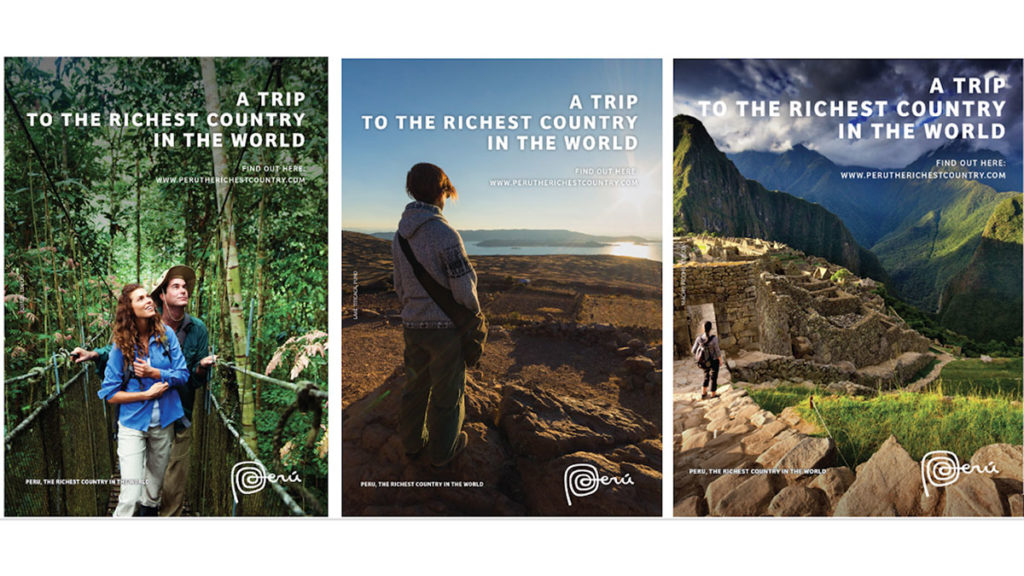 'Peru, the richest country in the world' capitalises on the reputation the country has already gained as a world-class cultural and culinary destination. The campaign is part of a long term international tourism promotion strategy which began in 2008 with the campaign 'Peru, live the legend'. Peru then launched 'Peru, empire of hidden treasures' in 2012 and 'Peru, land of hidden treasures' in 2015 with the slogans "Don't watch the movie, live it for real" and "Discover the you you never knew, discover Peru."
The UK is a key international market for Peru, with arrivals in 2016 increasing 9.6% year on year, and so PROMPERÚ selected WTM, the one of the world's most prominent travel trade exhibitions held each year in London, to launch its new international campaign.
Today the new campaign went live in 20 countries across the globe: United States, Canada, Mexico, United Kingdom, France, Germany, Spain, Italy, Holland, Switzerland, Argentina, Brazil, Chile, Colombia, Ecuador, Uruguay, Japan, Australia, Korea and China.
Source: PROMPERÚ