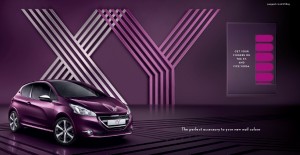 Peugeot has engaged OMD UK to carry out a print campaign that will see nail wraps tipped on to print display pages to launch the new Peugeot 208 XY.
Available in four distinctive colours, including Purple Night, OMD UK has partnered with HND Ltd to develop 'XY Purple Night' coloured nail wraps, which will be tipped on to display pages in key female monthly style titles.
Morgan Lecoupeur, marketing director at Peugeot Motor Company UK, commented: "We are always searching for innovative ways in which to portray the brand in a stylish and desirable way. This not only allows us to do this, but will also achieve great cut-through and stand out by doing the unexpected of a car manufacturer in the fashion arena."
Launching in Elle's July edition for subscribers only, HND Ltd has produced 200,000 nail wraps, which will appear in the September issues of Cosmopolitan, Marie Claire and Instyle. The wraps will be complimented with the message 'Peugeot 208 XY – The perfect accessory to your new nail colour', and 'Get your fingers on the new 208 XY. And vice versa'.
The print creative was produced by HAVAS worldwide.