Westfield Malls, in partnership with LA-based creative agency Pitch, is introducing a new campaign, titled "Come Play," which will be rolled out during various seasons throughout the year.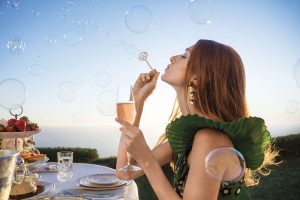 The campaign is an extension of the brand's "New New Mall" marketing strategy and identity, a concept that positions Westfield beyond a collection of stores to a place where all shoppers' needs are met.
It is an evolution to 2017's campaign, all of which immerses people in a personal and sensory journey full of unexpected discoveries using playful juxtapositions.
"Come Play" captures the excitement and joyful wonder that people will find at Westfield.
It showcases people enjoying an array of seasonal activities – like a group of fashionable women blowing bubbles that are actually bubbles from their champagne flutes, lipstick replacing chalk in a game of hopscotch; what appears to be a pile of leaves are really chic accessories that are found at Westfield; and a tug of war rope is actually made with beautiful scarves.
The campaign will begin running this spring and continue throughout the year across mobile, digital, print, as well as OOH in Westfield's key markets. Pitch created and developed all national, centre-specific and thematic campaigns for the brand over the past year and for 2018.
Source: Pitch