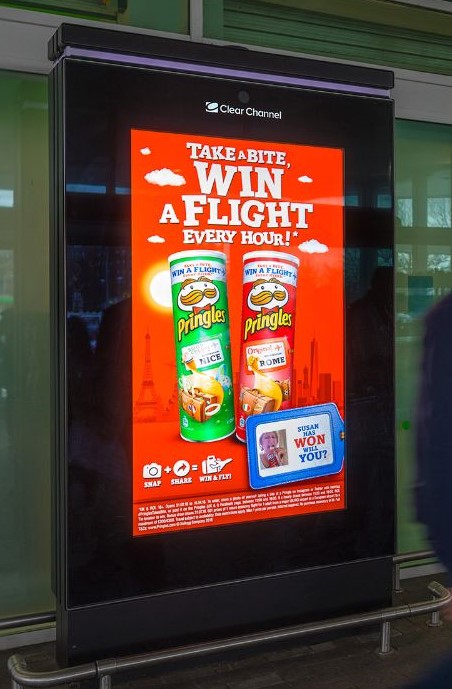 Kellogg's owned snack brand Pringles is launching a UK-wide digital out-of-home (DOOH) campaign to encourage participation in its Easter on-pack promotion "Take a Bite and Win a Flight".
Players are invited to snap and share a picture of themselves enjoying their favourite Pringles on social media for the chance to win a trip to a European destination every hour throughout every day of the month-long promotion.
The DOOH campaign has been designed to amplify the social media campaign and will harness the real-time capabilities of digital out-of-home by featuring the social photos of each hourly winner in real-time on panels close to point of purchase.
The campaign runs until 16 April on six-sheet digital panels outside key Tesco and Asda stores nationwide. OOH campaign planning is by location marketing specialist Posterscope and Carat with creative produced by ZEAL.
Emily Dutton, Assistant Brand Manager, UK & I Pringles, said: "Easter is a time for friends and family to get together and celebrate, and Pringles plays a big part in this sharing occasion. Our "Take a Bite and Win a Flight" adds another sharing opportunity into the holiday, and with our winners celebrated on advertising panels close to purchase points, we want to encourage shoppers to grab a tube and get involved."
Lee Mabey, Agency Strategy Director at Posterscope, added: "Research has shown that people are more likely to enter a competition if they feel that they have a real chance of winning. Our ability to feature real-time, user-generated content from our competition winners on panels right next to purchase points, taps directly into this and will help to drive interest and desire for this fantastic Pringles promotional."
Source: Posterscope