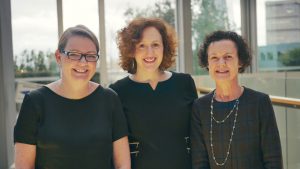 Proximity London is announcing the promotion of Claire Tusler, its data strategy partner, to head of data and analytics. Tusler replaces Amanda Arthur who is being elevated to the newly-created role of vice-president, data and analytics.
The changes reflect the significant and continued growth of the agency's data team over the last two years. Tusler and Arthur will report directly to Adam Fulford, who was recently appointed as chief strategy officer.
Tusler has worked at Proximity London for over 10 years. As head of data and analytics, she will lead and develop the direction and vision of the agency's 50-strong data team, including championing future data innovations. She will work across the agency's client base, which includes Virgin Atlantic, Specsavers, The Economist, John Lewis and IKEA, and will also support new business activity.
Widely regarded as a data luminary, Arthur joined Proximity London 5 years ago, having previously worked at Havas and client-side at BT. As well as continuing to lead the TV Licensing data and analytics team, she will also be responsible for promoting learning and best practice across the agency's data community and identifying up and coming talent. She will also lead partner relationships with data providers, universities and other third parties.
Gabrielle Ludzker, CEO of Proximity London said: "Data is not only the largest but also the most fertile opportunity of our times. We are already the largest and most talented data-driven creative agency in the market, but now it's about focusing on innovation to take things up a level. That is why I am promoting Claire to head of data and analytics and elevating Amanda to vice-president, data and analytics. Together they will do great things. Watch this space!"
Claire Tusler added: "Today, data sits at the very heart of where business opportunities lie and how we develop clients. I honestly believe that we have one of the best data teams around and I'm delighted to be leading the charge at such an exciting time for both our agency and the industry."
Amanda Arthur added: "Proximity's data team has grown hugely in the five years that I've been here, both in terms of the number of accounts and the breadth of the assignments. We've grown and consolidated the team and are now looking forward to the next phase of our development. I'm absolutely thrilled to be part of this journey."
Source: Proximity London