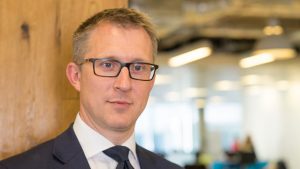 Publicis Groupe announced the appointment of Karl Weaver as CEO, Publicis Spine, UK. Weaver will be responsible for unifying the data assets, technology and talent across Publicis Groupe UK in order to deliver market-leading data driven products and services for all clients in the UK.
Reporting to Annette King, CEO of Publicis Groupe UK and Sue Frogley, Publicis Media CEO, Weaver joins from Dentsu Aegis where he is currently CEO of digital agency Isobar.
Publicis Spine, which launched in October 2017 – and is led globally by Lisa Donohue – comprises three core components:
A global data strategy and data assets that enable a unique, ownable understanding of customers across the full journey.
Publicis PeopleCloud is an end-to-end marketing platform that organises data into IDs, integrating 1st, 2nd, and 3rd party data and using machine learning to match cookies, devices, and offline behaviours, in a privacy-compliant manner. Aggregating these IDs provides a basis for growth planning, building audiences, creating content, managing and measuring marketing campaigns.
The collective power of a community of engineers, data scientists and technologists from across Publicis Groupe who grow clients' business through transformative applications of data.
Annette King, CEO of Publicis Groupe UK, said: "I am delighted Karl is joining our senior team in this key role as he has the background, expertise and unique blend of skills to lead and evolve Publicis Spine to the benefit of our clients, talent and partners here in the UK."
Karl Weaver, CEO Publicis Spine UK, said: "Publicis Groupe puts data-led thinking at the core of client solutions. The Publicis Spine proposition is unique in the marketplace, making an analytical understanding of consumers a fundamental building block of the offer, rather than a bolt on. This is a transformative approach and has huge potential for both clients and the business as a whole. I am delighted to have the opportunity to work with the talented team at Publicis Groupe."
Weaver's appointment comes a month after King unveiled her new UK leadership team.
Publicis Groupe UK is made up of over 5,500 employees and 32 agency brands that sit within the solutions hubs: Publicis Communications, Publicis Media, Publicis.Sapient and Publicis Health.
Source: Publicis Groupe