[KGVID width="600″ height="338″]https://marcommnews.com/wp-content/uploads/2016/02/Publicis-London-Renault-Clio.mp4[/KGVID]
Renault has launched a new campaign to celebrate 25 years of the Renault CLIO in the UK. Created by Publicis London, it's the first UK-created campaign for CLIO since 2009, following a great heritage of iconic and remarkable CLIO advertising.
As an emblematic model for the brand and its main flag bearer for many years, the campaign aims to refresh CLIO's brand perception by building on the pre-existing emotional connection between the British audience and the Renault CLIO, bringing back its unique personality and inviting people to live and drive with a certain flair again.
'Be moved, not driven' is the line that encapsulates the idea that Renault CLIO is a style icon, made with energy and spirit for those who live life with an open heart.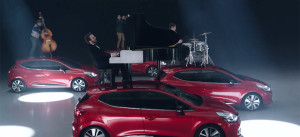 Teaser snippets were seeded out on social in the week prior to the full launch, which will run across TV, Cinema, OOH and Press. There'll be further opportunities to interact with the content via Experiential installations at shopping malls and online via the new Facebook Canvas platform.
Publicis London led the new Renault CLIO campaign strategic planning and creative, with media buying and social activation handled by Manning Gottlieb OMD and Experiential activity managed by Fusion.
Dave Sullivan, Creative Director at Publicis London said, "The Renault Clio is an iconic car with a history of iconic advertising from Nicole and Papa to Thierry Henry. She's 25 this year so we've revisited the spirit of Va Va Voom to celebrate."
Adam Wood, Marketing Communications Manager at Renault, defines the spirit behind the campaign: "CLIO is an icon, following 25 years of brilliant cars and memorable advertising. And our latest Clio IV is our best yet: a stunning design with real stand out quality. Our all-new campaign brings all of that beauty to the fore, with that unmistakable Renault sense of joie de vivre and passion".