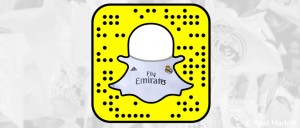 Real Madrid is one of the most popular football team in the world, with 85m fans on Facebook and 17.5m followers on Twitter, so a partnership based around its biggest match of the year is a massive win for Snapchat, who hosted one of its Live Stories based around the side's clash with F.C. Barcelona on November 21.
The match between the two rivals, known as El Clásico, was supported by a Live Story which fans watching live from the stadium could submit content to, with official logos and filters available for users to add to photos and videos, adding to the levels of user engagement and ensuring that the club's branding was widely seen.
As well as the Live Story, Real Madrid opened its own Snapchat account which will continue to provide content to fans. Within the first 12 hours of Real Madrid setting up the account, each video the club posted had been viewed an average of 200,000 times.
"Real Madrid will offer an official Snapchat account that will allow Madridistas across the globe to follow the team's day-to-day news and activities," said a spokesperson for Real Madrid. "Snapchatters will have the opportunity to experience the Real Madrid universe like never before, with the chance to enjoy everything from training sessions at pitch level to every last corner of the arena on matchday."