Red Star FC is a legendary football club in France, marked by its history, its culture and especially its territory. For the reveal of its new shirt, the Saint-Ouen club launch an innovative campaign that is inspired by as well as taking place in the Red Star FC neighbourhood.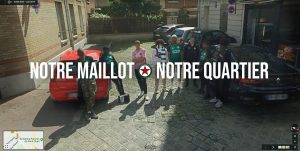 As the first brand ever to use Google Street View to reveal a product, Red Star FC made a digital look-book shot in the Bauer Stadium neighbourhood. By taking a virtual stroll through the streets surrounding the Bauer Stadium, the viewer can spot and discover the new home and away shirt models from the collection.
For this campaign it's not the players who are the stars but the Saint Ouen inhabitants. A group of girls, a skater, a pizza delivery guy and even some local celebrities like John Hamon and rapper Junior Bvndo proudly sport the colours of the club.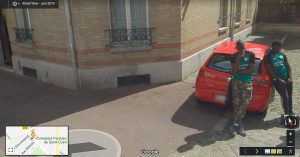 Our Shirt. Our Hood (French: Notre Maillot. Notre Quartier) is the name of the campaign, a pass to the club's motto: Our Heart. Our Strength (French: Notre Cœur. Notre Force).
The new home shirt keeps its historic green colour but now comes with black sleeves, while the new away shirt becomes pink. The ambition for the new Red Star jersey is to beyond just a football shirt, turn it into a fashion object, while strongly reaffirming the profound tie that binds the club to its city and stadium.
The device was produced by SuperVision and conceived by BETC Paris. The partnership between BETC and Red Star is a natural step for the agency that has a strong engagement in the Greater Paris territory.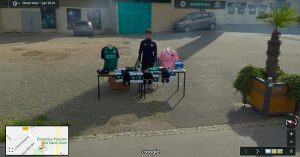 Rémi Babinet, Founder of BETC says: "Our agency moved to Pantin three years ago because we predicted there would be an opportunity to experiment on every level and notably that of Greater Paris. Since, we try to contribute by conceiving and creating concrete cultural actions concerning the Greater Paris area to hopefully help reveal the incredibly dynamic potential that surrounds us here.  And that is how we found each other with Red Star."
David Bellion, Brand Manager Red Star FC comments: "Playing with Google Street View to reveal our shirts is to enter the matrix and putting Saint Ouen at the centre, show our neighbourhood, the suburb, the soul of Red Star and its supporters. And always, more than ever, we find inspiration in reality."
Source: BETC Paris