Rovio Entertainment kicks off its latest animated series set to air exclusively on YouTube during this summer's World Cup tournament in Russia.
Starting on June 9th, with new episodes airing every Wednesday and Saturday for five weeks, the 'Angry Birds: BirLd Cup' features two teams of kids divided into 'Team Red' and 'Team Chuck', who compete in a series of challenges to earn points and be crowned winners of the coveted, ahem, 'BirLd Cup' trophy. The family-oriented live-action and animated hybrid series aims to bring parents and children together during one of the most watched sporting events on the planet.
The series, in association with Premier League side Everton Football Club, also features YouTube phenomenon and 'Team Red' captain Tekkerz Kid up against the adorable 'Team Chuck' captain, Ruby Clark, who is best known for her spontaneity and sense of humour on her sister's YouTube Channel Lovevie.
Alan McTavish, Head of Commercial at Everton Football Club, commented: "It's been great to work hand-in-hand with Rovio on creating this innovative and exciting Angry Birds: BirLd Cup series. Combining Everton first team stars with the world famous Angry Birds animation and much loved Red and Chuck characters provides us with an ideal platform to entertain millions of familes worldwide."
Premier League stars including Wayne Rooney, Dominic Calvert-Lewin, Tom Davies and Turkish international Cenk Tosun are on-hand to help the kids learn some useful tekkers, whilst also participating in many of the high-energy challenges throughout the series to earn as many points as possible for their respective teams. However, those pesky 'Bad Piggies' have hijacked the scoreboards so who knows what sort of porkies they'll be telling along the way!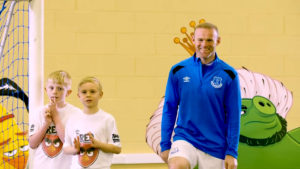 Everton FC forward and Turkish international player, commented: "Ahead of a big summer of football, it was great to spend time with Red and Chuck and get involved in the first ever 'Angry Birds: BirLd Cup'! All of the players taking part really enjoyed joining the two teams in tackling these hilarious and competitive football challenges. Tune into each episode to cheer on Team Red or Team Chuck!"
Simo Hämäläinen, Senior Vice President, Brand Licensing at Rovio Entertainment, commented: "We're thrilled to be debuting this super fun series exclusively on YouTube with Everton Football Club and its stars. This is a brilliant example of how we can utilise great partnerships way beyond traditional sponsorship methods, and bring family entertainment to audiences worldwide. There's never been a more exciting time for brand partnerships here at Rovio. Our future content roadmap is the strongest it's ever been, spearheaded by The Angry Birds Movie 2 in September 2019, followed by long-form animation, live stage shows, location based entertainment projects and much more."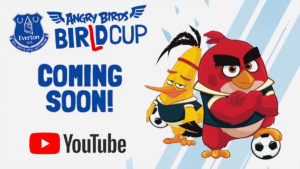 The 'Angry Birds: BirLd Cup' kicks off on June 9th through July 13. The episodes will also be prominently featured on the YouTube Kids app beginning June 14. Video replays of each episode will be available to view thereafter so you don't have to miss a thing!
Subscribe to the official Angry Birds YouTube channel now to be kept up to date with the latest episodes as they appear online.
Source: Rovio Entertainment