Samsung Electronics Australia has announced the creation of the brainBAND Project, centered on the global initiative Launching People. Designed to push the boundaries of technology and facilitate research into concussion. The brainBAND Project is the work of Dr. Alan Pearce and Braden Wilson who were brought together for the project by Leo Burnett Sydney on behalf of Samsung Australia.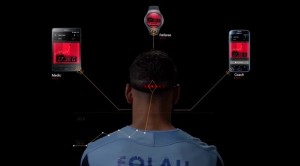 Samsung's Launching People program, brings together two experts from different backgrounds to demonstrate how technology can investigate and help solve real challenges facing society. In Australia, neuroscientist Dr. Alan Pearce and industrial designer Braden Wilson have worked together to create a prototype to monitor and better understand the impact of concussion.
Facilitated by Samsung, the brainBAND Project highlights how technology can be used at the core of investigating societal problems such as concussion – an issue that can affect all sports codes and levels.
Says Philip Newton, corporate vice president and chief marketing officer, Samsung: "At Samsung, we have a strong belief in pushing the boundaries of technology and challenging the current perception of what is possible through innovation. Samsung's Launching People program has allowed us to do this, leading to highly successful campaigns around the world, such as 2015's LifeLIVE virtual reality content piece.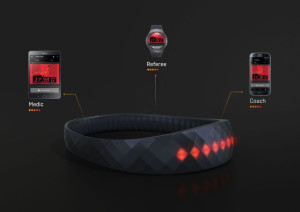 "With the launch of the brainBAND Project we are extremely proud to have helped facilitate the work of Dr. Alan Pearce and Braden Wilson to create technology to aid research into concussion in sport."
How it works
A specially designed headband houses sensors at the back of the head that measure the force of an impact. This information is then relayed via an app to medics, referees and coaches, all in real time through the use of Samsung devices.
A series of LED lights embedded in the headband indicate the severity of a hit: yellow, orange and red for high alert, meaning a player should be taken off the field.
All impact data is recorded and logged so that, over time, players have a complete picture of the forces their brain has been put under.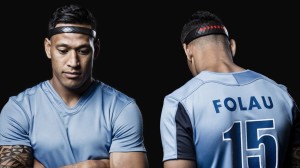 Says Dr. Alan Pearce, neuroscientist and expert on concussion: "The ultimate goal is that by bringing attention to the dangers of repeated concussions, we will help prevent life changing injuries at every level of the game, and protect the next generation of players."
Released March 23, the final episode in an eight part content series created by Leo Burnett Sydney highlights the results achieved throughout the campaign by putting brainBAND to the test in a real life football game.
Says Vince Lagana, joint-ECD, Leo Burnett Sydney: "Developing the brainBand has been an eight month journey, but we're still only beginning to understand the dangers of concussion. It's exciting to know that we're helping to expand that knowledge with technology that can provide real-time feedback – an essential part of reducing the alarm caused by concussions."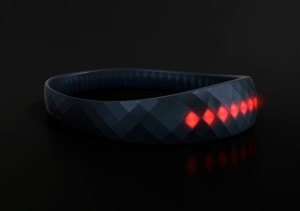 Says Grant McAloon, co-ECD, Leo Burnett Sydney: "brainBand is technology doing what it does best: serving the needs of human beings. This approach has underpinned all the innovation work we have done for Samsung and it's our ambition as an agency to create this sort of work in the future."
The collaboration with Samsung Australia has inspired Dr. Alan Pearce and Braden Wilson to continue their research and development in the area of concussion, utilising the research learned through the Launching People campaign.