British banking company Santander have released their latest project, 'Cycling Can', promoting London's public bicycle hire scheme in a bid to encourage Londoners to uncover the beauty of the city by bike.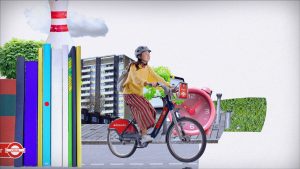 The concept, devised by McGarry Bowen and developed in collaboration with Rock Hound and Big Buoy, consists of five installments, each one featuring a character profile relevant to Santander's target audience with a unique London lifestyle. From student to professional, gym-goer to urban socialite, we follow each character on their journey from scene to scene as an animated London skyline emerges. Landmarks, art, cafes and signposts unfold to reveal an animated urban jungle, eclectic, dynamic and full of colour.
Rock Hound's Amy Becker-Burnett comments: "There was a huge amount of visual research and design experimentation involved, even before the animation process began. Both Sandra and I wanted to create environments which where rich and layered with colour, texture and a variety of silhouettes to create the most dynamic representations of London. I enjoyed the process of collaborating with Sandra-we both had similar visions of what we wanted to achieve aesthetically and it was interesting to see her bring what we had developed to life."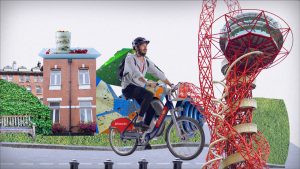 Co-Director, Sandra Clua, adds: "The project was really exciting as we had the freedom to create whatever we wanted. The animation proved challenging, as there was a massive amount of layers to work with. Every detail in the background of each film is animated-from the pencil lamp posts to the overflowing popcorn. Co-directing the spot with Amy made this a really positive, unique experience for me."
Whilst each carefully crafted collage emphasises the feeling of freedom obtained through Santander's cycle scheme, the overall message remains poignant: our city is diverse, and we should all be excited to explore it.
Source: Big Buoy