Scarecrow M&C Saatchi, Mumbai shot an inspirational film with the Police Force for their client Future Generali India Insurance Company Limited (FGII) to inspire citizens to run for health at the Navi Mumbai Half Marathon.
FGII is the sponsor of the Future Generali 10K Run at the Navi Mumbai Marathon on Sunday, 17th February 2019. FGII is the general insurance arm of the joint venture partners – retail game changers Future Group and global insurer Generali.
To promote FGII in a unique way, the company is sponsoring 75 policemen and women to participate and run in the marathon. Being an insurance company, FGII believes in providing complete protection to its customers. FGII wanted the police, whose duty is to provide protection to people, be a part of the marathon to inspire and run along with them.
Sharing his views, Mr. Shreeraj Deshpande, Principal Officer and Key Managerial Personnel, FGII said, "Future Generali is committed towards promoting healthy lifestyle among people. The company has an array of health insurance products to cater to an individual's needs. Events like Navi Mumbai Half Marathon give us an opportunity to raise awareness and motivate people of all age group to take up running as a means to improve their health. This year we have 75 policemen who have joined us for the Future Generali 10K Run. Thus, supporting us in our endeavour to promote healthy lifestyle."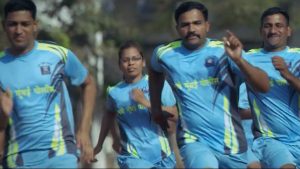 To promote this unique collaboration, Scarecrow M&C Saatchi made an inspiring digital film with the participating policemen. The film shows us, the civilians, that the police is constantly running. Sometimes behind information, sometimes behind criminals but every time they run, they run for the civilians and their safety. However, this time they are also running so that they can be fit to protect us better, and at the same time, inspire us to be fit.
Kapil Tammal, Executive Creative Director & Creative Head, Scarecrow Communications said, "There are hardly any films made showing members of the actual police force. Imagine directing a Commando and making him run laps after laps for the perfect shot! So, the task was both challenging and interesting. On one hand, we had to show them as tough as nail individuals and on the other, show the pride they feel serving on the force and running for the team."
Mustafa Kapasi, Senior Creative Director, Scarecrow Communications said, "The challenge was to have a high Emotional Quotient in the film, while avoiding clichés and show a side of the police force, that is seldom seen."
Source: Scarecrow M&C Saatchi