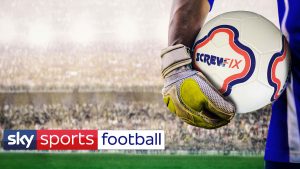 Reinforcing and expanding on its six-year relationship with Sky even further, Screwfix has become the first-ever 'Official Partner' of the Sky Sports Football channel after signing a sponsorship deal for the forthcoming 2019/20 season. 
The seven-figure deal brokered between Sky Media and Wavemaker will see Screwfix exclusively sponsor Sky Sports' broadcast and digital coverage of the English Football League (EFL) and cement themselves as one of Sky's longest-standing partners.
In a new and broader deal, the omnichannel retailer will also sponsor 'whistle-to-whistle' Sky Sports coverage of the Carabao Cup and Scottish Professional League (SPFL). As well as sponsorship of over 190 live games on Sky Sports Football, the package includes exclusive sponsorship of the weekly EFL highlights show on free-to-air channel Quest.
As part of the new deal, Screwfix can use the Sky Sports Football logo and Official Partner designation in its owned and bought media. The package comprises 15 and 5 second idents, digital display takeovers and video bumpers, aligned to sponsored content.
Caroline Welsh, Director of Brand and Marketing at Screwfix said: "We are proud to be the first official partner of Sky Sports Football. With over 80% of customers watching or attending games, this partnership gives us the opportunity to talk to them every week. After a fantastic six years of working together and with Screwfix celebrating its 40th birthday this year, this landmark deal is the perfect way to celebrate."
Rachel Bristow, Planning Director at Sky Media said: "We are delighted to extend our long-standing partnership with Screwfix, which will see a broader alignment with Sky Sports Football and Quest. There is a great fit between the Screwfix and Sky Sports' audiences who are passionate football fans and committed followers of the game. We look forward to working with Screwfix, yet again, to activate and elevate the renewed partnership as the new season unfolds." 
Source: Sky Media