'Hätte, hätte' (Shoulda, coulda, woulda) online films celebrate 10th birthday of Deutschland Card multi-partner loyalty scheme. Serviceplan, Plan.Net and hmmh are responsible for all communicative measures regarding the anniversary for "10 years of DeutschlandCard".
In partnership with hmmh and Plan.Net Content Marketing, Serviceplan One oversaw the design and implementation of DeutschlandCard's anniversary campaign. The multi-partner loyalty scheme, whose partners include Edeka, Esso, Netto Marken-Discount and Hammer, celebrates its tenth year with integrated campaigns on TV, online and at the POS. Around 50 million lottery tickets were given out to DeutschlandCard holders to coincide with the launch.
Serviceplan One secured the services of the Dutch director Steffen Haars, whose work includes the well-known TV series "New Kids" and who is known for his absurdist comedy. The videos were produced by mypony using the music of Sizzer Amsterdam, who composed original songs in a 1980s style.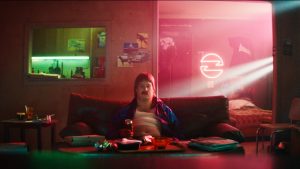 Befitting a tenth birthday celebration, the multi-partner loyalty scheme's tagline "Hätte, hätte… DeutschlandCard" ("Shoulda, woulda, coulda… DeutschlandCard") runs throughout 2018. The campaign emphasises the benefits of collecting points, using a creative twist to let customers know that if they don't collect points, they'll miss out.
"With the help of our main character, we demonstrate that there's really no reason not to collect points with the DeutschlandCard," explains Sandro Götz, Managing Director of Serviceplan One, "As with so many things in life – you just have to do it, or you'll regret it later. With 'Hätte, hätte…', we're employing a classic phrase that everyone probably knows and that conveys the campaign message clearly and directly."
"For ten years now, our participants have been able to collect points with the DeutschlandCard, which they have then used to treat themselves or do something they've always wanted," explained Dirk Kemmerer, Managing Director of DeutschlandCard.
"So, for our anniversary year, we wanted to say 'thank you' with some very special offers. We will also be increasing awareness of our product at the same time with the far-reaching "Hätte, hätte… Wunsch erfüllt" campaign and increasing the emotional pull of the DeutschlandCard brand. The targeted integration of digital and mobile channels also allows us to tap into a younger audience in a focussed way, while also boosting the conversion rate."
The campaigns includes; digital activation with a display and banner campaign; a 15-second TV ad; and a total of 3 online ads available to watch on the campaign page.
Source: Serviceplan Group