Serviceplan Campaign X stages shortcuts for MINI Germany to promote the new MINI Connected Features: Just as the real-time traffic information "Real Time Traffic Information" (RTTI) always informs the drivers of the new MINI models about the fastest and most time-saving route to their destination, the converted 18:1 advertising spaces on time-consuming Berlin pedestrian routes show an abbreviation for the fastest route through the city.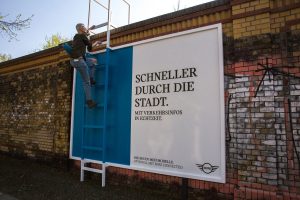 The MINI Connected campaign is part of the online-driven campaign #eckenentdeckenen, which has been promoting the new MINI 3-door, MINI 5-door and the new MINI Convertible since February 2018.
In the second half of April, 18:1 posters are installed in Berlin, inviting pedestrians to take a shortcut under the motto "Faster through the city with MINI Connected".
These can be seen, for example, on Gartenstraße, where a staircase over a wall makes for faster progress, on Lotte-Lenya-Bogen, where a tunnel passage under a railway line saves the detour via the far-flung underpass and also on Linienstraße in Mitte, where crossing a football pitch replaces the long way around the block of houses.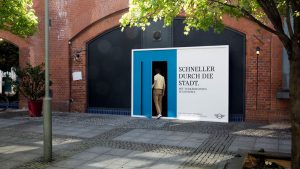 "The idea of the Shortcut posters is an original translation of the RTTI feature, which always has the fastest way through traffic ready, into people's analog world," explains Hans-Peter Sporer, Managing Director (Creation) of Serviceplan Campaign X.
Ulrike v. Mirbach, Head of MINI Marketing Germany commented: "We bring the complex connectivity topic out of the car onto the streets of the big city, where it is ultimately a matter of finding the fastest way from A to B in everyday life. The campaign makes MINI Connected tangible, demonstrates the added value of saving time simply and comprehensibly and is an integral part of our social media campaign."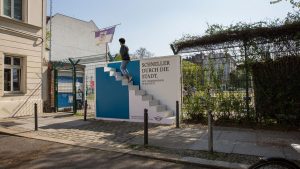 Numerous reactions to the shortcut poster installation were filmed by passers-by. The resulting documentary was produced by It's us (Berlin) and Neverest, and will be placed on the MINI Deutschland channels Instagram, Facebook and Youtube.
At Serviceplan Campaign X, Luitgard Hagl, Creative Director, Christina Antes, Managing Director (Consultancy), and Konstanze Kliesch, Account Director, are responsible for conception and implementation in addition to Hans-Peter Sporer.
Source: Serviceplan Group