The campaign is part of a £2m repositioning for Sharwood's to cement the brand's place in the modern kitchen.
The TV ad, created by McCann London, marks a new, more contemporary look and feel for the Sharwood's brand and celebrates the travel, taste and excitement that has inspired the Stir Fry Melts range.
Sharwood's brings the excitement of meal experiences from around the world directly into the home and New Stir Fry melts epitomizes this colourful spirit. This exciting new product gives you all the flavour you need to create a light flavoursome stir-fry packed into a little pot.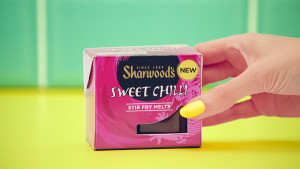 The TV ad launched this week and is supported by a print campaign.
Yilmaz Erceyes, Cooking Sauces Category Director at Premier Foods says "This colourful platform brings a new lease of life to both Sharwood's and to the Cooking Sauces category. Our new Stir Fry Melts product is category transforming.  This advert showcases a modern approach to cooking – combining the excitement of travel and taste to stimulate the senses – it really sets us apart from the crowd."
Credits
Chief Creative Officers: Rob Doubal & Laurence Thomson
Creative team: Lianne Galazka & Imogen Jones
Managing Partner: Kate Modeland & Julie McNiff
Account Manager: Mel Caplan
Planner: Thomas Keane
Agency Producers: Sue Dhaliwal & Claire Hopkins
Project Managers: Stuart Cameron & Jon Marshall
Head of Integrated Production: Sergio Lopez
Director: Catherine Losing
Production Company: BlinkArt
Producer: Andrew Studholme
Offline Edit: Max Windows at Stitch Editing
Grade: The Mill
Post Production: Craft London
Media: Carat