The Post Office reveals the return of Simon Bird in its new Christmas campaign 'Christmas. Sorted' with a new TVC due on air 5 December, launching in prime time across all major stations. Directed by Agustin Alberdi of Stink and created by DLKW Lowe, the 30 second TVC is supported by 40 and 20 second versions for other channels. Media planning and buying is being handled by Mindshare.
The fully integrated Christmas campaign brings together TV, press, digital display, PPC, in-branch and experiential activity, to demonstrate how the Post Office is helping its customers get their 'Christmas. Sorted'.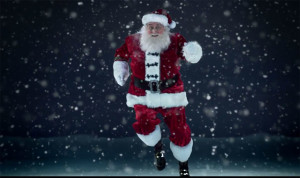 Pete Markey, Chief Marketing Officer said: "The new campaign yet again puts the focus firmly on the customer, showcasing the transformative effect of the Post Office – in this case the good feeling you get when you sort out your Christmas presents at the Post Office"
Building on the travel campaign from June this year where Simon Bird sorted his travel money before rollerskating down a sunny promenade to 'Holiday'. In the Christmas TVC '#MerryChestBump' we see Simon at his local Post Office sending his presents and, as the Post Office colleague behind the counter wishes him a Merry Christmas, his world is transformed.
Under a veil of snow and set to the rousing Vivaldi anthem 'Gloria', Simon starts to run in slow-motion, feet crunching in the snow toward Santa Claus before they launch into an epic midair chest bump. Yet another demonstration of the good feeling you get when you get something important sorted at the Post Office.
Social Media plays a key role with the Post Office interacting with customers through the campaign hashtag #MerryChestBump.