To coincide with Stop Cyberbullying Day (June 21st 2019), Simple are launching a new campaign to spread kindness online, with the support of the world's biggest girl band Little Mix, and anti-cyberbullying charity Ditch The Label.
According to a recent Annual Bullying Survey, nearly one in three teens experience cyberbullying. Simple and Little Mix's continuing partnership aims to stand up for those who've been affected and promote a kinder environment on social media, with a new digital and social campaign from TMW Unlimited.
The 60 second film shows band members Perrie Edwards, Jessy Nelson, Leigh-Anne Pinnock & Jade Thirlwall tackling a hate wall filled with insults and harsh words before they 'wipe away' the unkind words, transforming it into a wall of kinder, more positive words for its Gen Z audience. The film ends with a message to 'Choose Kindness', that links to Simple's new refreshed brand positioning: Kind to Skin, Planet and People.
Additional content for Twitter features Little Mix sharing their own stories, explaining how they've personally dealt with trolls and harsh comments, along with their tips on how to create a kinder environment on social media.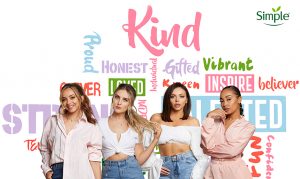 Simple is also teaming up with anti-cyberbullying charity Ditch the Label on the campaign, to promote helplines and supportive tools that can help those affected by bullying on and offline.
The campaign goes live on Stop Cyberbullying Day (June 21st), and will run across VOD, Facebook, Instagram, Snapchat and Twitter, with additional PR by Beauty Seen.
Libby Sherriff, Senior Brand Manager at Unilever: "This campaign by TMW Unlimited perfectly highlights the importance of 'choosing kindness' in our lives. Little Mix are the perfect partnership to bring the campaign to life and having the support of the girls and Ditch the Label was crucial in conveying the message of anti-bullying."
Tom Harman, Creative Director at TMW Unlimited: "Everyone knows Simple as a brand that's Kind to Skin, but this campaign is the first time we're building on that brand heritage to spread kindness in a relevant way for our Gen Z audience. With Little Mix leading our mission, we're encouraging people to make social platforms a kinder place, one word or comment at a time."
Source: TMW Unlimited