Trainline operator TransPennine Express launches "Where Next? – Summer 2018". Creatively devised by WCRS, the playful 30 second commercial sees real locals from 25 different northern locations have a sing-off to attract visitors to their hometowns. String and Tins supervised the singing and recording on location of the real, local cast and crafted the mix for the film.
The commercial features the real voices of proud Northern locals at attractions in their hometowns as they belt out the lyrics from the Broadway classic "Anything You Can Do (I Can Do Better)" in a bid to attract potential visitors. The spot incites light-hearted and friendly competition between those from the northern English and Scottish towns and cities.
Amongst them, the high-spirited commercial shows residents at Newcastle's Angel of the North, drumming Scotsmen at Glasgow's Science Centre and a jazz band in Manchester as they serenade viewers with their characterful harmonies.
The recognisable accents of those from each location shine through, acting as a vocal roadmap of the trainline's route. The song peaks in the final scene as a carriage-full of cheerful choir singers chant the closing chorus of the track.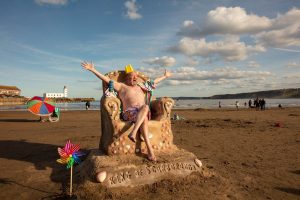 WCRS partnered with London-based sound design and music production studio String and Tins to record the vocals of the 58 street-cast characters featured in the film. Sound designer at String and Tins Lawrence Kendrick worked closely with the sound production team on set to oversee the smooth running of the music production.
Spanning 25 locations over six days, Lawrence had to ensure the sound production was precise due to tight recording times. He says: "The whole production had to run like clockwork because we wanted to use genuine, on-location recordings. This made it essential to capture the vocals perfectly so that they'd slot into one seamless ensemble for the final film."
Working across multiple locations, with a cast that were not trained or experienced, presented some challenges. Lawrence says: "We were working with a huge selection of eclectic locals. When recording, we had to make sure we got each shot right in the time we had for the recording to be crafted into one cohesive song."
This meant being adaptive on set. He explains: "The jazz band needed to have their own legitimate feel while slotting into the film seamlessly. The sound you hear is what we captured on set and we were rewriting the music even while still on the shoot to make sure we got it right. With some coaching and refining we got the results we needed, and they and the singers performed brilliantly!"
"Where Next? – Summer 2018" airs on 28th May and will run on TV & Online.
Source: WCRS