A new TV campaign from SNAP London for Vitality Health and Life Insurance has launched. It is the first major new TV work for the brand since 2016, and sees the launch of a new brand proposition: Positively Different.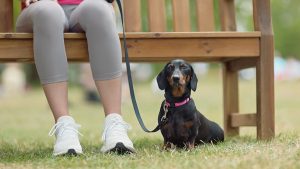 The proposition reflects Vitality's true challenger brand status. Where other insurance brands simply take customers' premiums in the hope of never having to pay out, Vitality rewards over one million Health and Life Insurance members when they get active, with half price gym membership, free cinema tickets and Starbucks coffees, and a whole host of other incentives to take responsibility for their own wellbeing. The net result is a positive outcome for members, Vitality and society alike.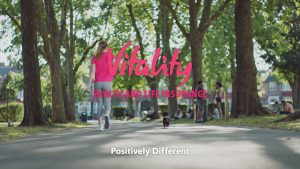 The new lead 60" and 40" commercials feature Stanley the lazy, apathetic Dachshund (now in his fourth year of advertising) – alongside Vitality Ambassadors, Dame Jessica Ennis-Hill, Jonny Wilkinson and Lord Coe. As he is walked reluctantly round a park full of people enjoying everyday activities, to the tune of an appropriate Britpop iconic soundtrack, Stanley explains why exercise isn't all it's cracked up to be. Seeing Lord Coe still jogging at the age of 62, Stanley tells him, "I thought you'd retired, mate… Stop all that exercise – have a lie down!"
Oliver Lewis-Barclay, Managing Partner of SNAP London, said: "Vitality is one of the few true challenger brands, showing up other financial services brands as sedentary and stuck in their ways. So the emphasis is on the brand's unique and tangible positivity. And nearly four years after Stanley the Dachshund first appeared, we've finally given him the classic soundtrack he's been craving."
The advertising campaign broke on national TV on 7th October.
Source: SNAP London