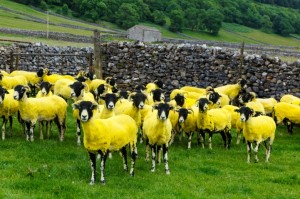 Creative direct marketing agency Soul has brought to life an ambient campaign for Yorkshire Building Society (YBS), in support of the Society's sponsorship of the Tour de France Grand Départ. 150 sheep in Yorkshire have had their wool dyed yellow in honour of the Tour de France leader's famous yellow jersey.
Soul has teamed up with a local farm to provide the shearing and dyeing of the sheep, which will be located in a field along the route of the first stage of the race from Friday 4 July until Sunday 6 July. The agency has also made an agreement with the sheep owner, farmer Richard Appleton, to buy the wool with the intention of creating jumpers for donation to charities for children and families in need.
Viewers of the televised race will be able to see a huge 20 x 10 metres banner with the YBS logo that reads: 'Yorkshire's getting into the spirit of the Tour de France', installed in a field next to the road where the Tour de France contestants will be cycling through.
Soul is also making use of drones to capture footage of the banner and sheep from overhead, to be used across YBS's social channels and its internal communications, to get people talking about the brand.
The activity comes as part of a wider integrated campaign created by Soul for YBS's support of the first three stages of the race, including TV idents, press ads, branch collateral, 48 and six sheet posters as well as in-branch posters. The creative focuses on the glories of Yorkshire and how the region provides a stunning backdrop to the world's most famous bicycle road race.
Anna Higgins, customer acquisition manager at Yorkshire Building Society, said: "As an organisation that was founded in Yorkshire 150 years ago, we are very proud to be an Official Supporter of the Tour de France 2014 Grand Départ. With a global audience of over three billion people, I am sure the Grand Départ will be an overwhelming success for the region and that our people, customers and members of the public will get fully behind the event and show the world what Yorkshire has to offer.
"We asked Soul to get people into the spirit of the race and its idea of filling a field along the tour route with 150 yellow sheep – dyed to represent the yellow jersey – is a fantastic initiative."
Farmer Richard Appleton from Westgate Farm said:  "As a proud Yorkshire farmer I'm excited to be getting into the spirit of the Tour and playing my part in supporting the world's biggest cycling race, right here in our own county."
Shaun Moran, creative director, Soul, said: "YBS wanted to bring the spirit of the Tour de France to the countryside of Yorkshire, in a departure from traditional advertising routes. The Society asked us to find a fun way to communicate its support as the race made its way through the Yorkshire Dales, so we had seven days to turnaround this campaign. Seeing the sheep sporting the yellow Jersey colour was a real triumph. This has been a great experience for us, especially as the roads for the Grand Départ are closing at 5am on Saturday, so we're having to camp in the field (with our new friends)!"