First major campaign from Specsavers to highlight contact lenses with a free trial
Specsavers today launches its first major campaign around its contact lens offering with a playful look at the challenges of kissing for glasses wearers.
The campaign – Kiss Clash – focuses on the creative 'Don't let specs get in the way of…kissing', and runs across paid social and digital, Out of Home and Video On Demand (VOD). In true Specsavers' style, the campaign shows how some things are better in contact lenses, drawing attention to how glasses can get in the way in a surprising, unique and funny way, quite literally showing real-life couples kissing… and clashing. It aims to encourage glasses wearers to think about contact lenses and take advantage of the free trial on offer.
The UK campaign is played out through x3 stills and motion shorts for Out of Home, Jack sites, digital and social, x3 films of 20" to run across VOD and YouTube, and both 10" and 6" to run across social and digital. A longer film (20" VOD and online) goes so far as to 'teach you how to kiss' with the sassy teacher explaining how all you need to do is…get contact lenses. The idea is amplified in social and PR.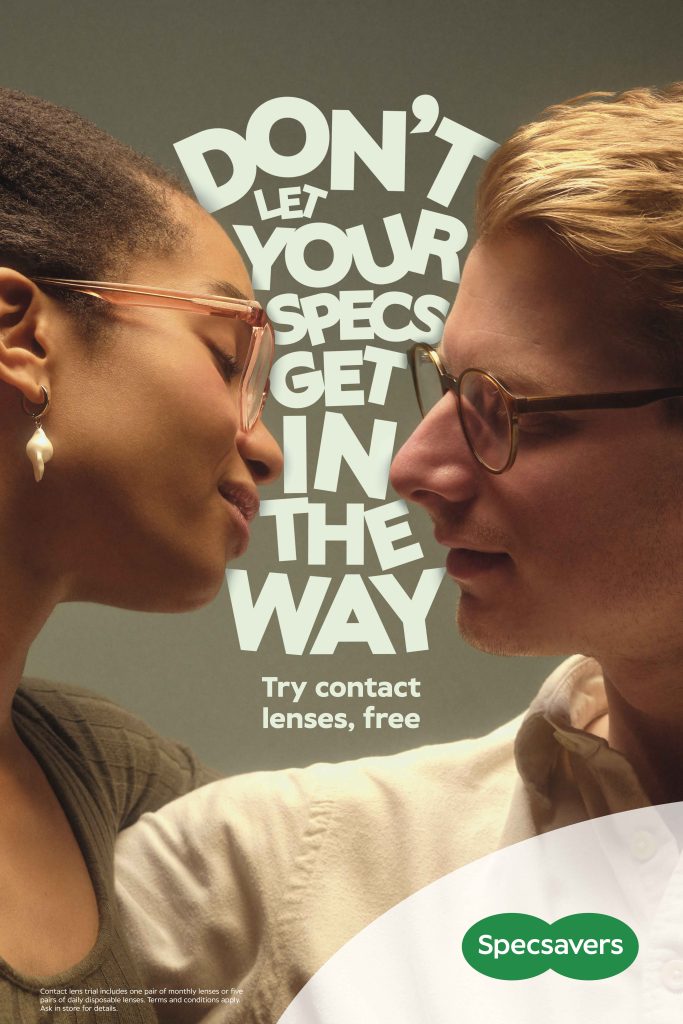 Richard James, Creative Director at Specsavers, The Agency, comments:

"Our brief was to raise awareness of Specsavers' contact lens offering, and through the work we have stayed true to the Specsavers' brand, with a light-hearted look at the challenges of kissing for glasses wearers."
Victoria Clarke, Marketing Services Director at Specsavers, comments:

"With this campaign we have taken a leadership position by jolting people to say: 'we love glasses, and know you do too but why not put down your glasses and give contact lenses a go, offering a free trial so there's no need to worry if you then decide they are not for you'."
Source: Specsavers