Fanatical Star Wars aficionados are gearing up for the cinematic debut of The Force Awakens by taking part in a global 18 hour unboxing event dubbed Force Friday.
Kicking off at YouTube Space LA the frenzy of cardboard, bubble wrap and sellotape with hosts Anthony Carboni and Andi Gutierzz injecting some pizazz into proceedings by providing live commentary to streamed events in 15 world cities as kids get their hands on the latest Star Wars branded toys.
Fuelling the marketing blitz will be a series of new product launches on the Star Wars YouTube channel, as well as video games and actors dressed as characters from the franchise universe.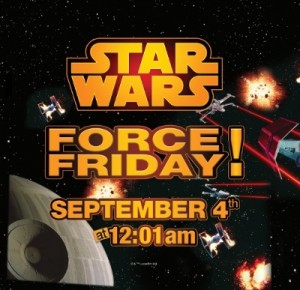 This obsession even stretches to the food on offer with delegates able to avail themselves of Han Burgers and some, hopefully not hairy, Chewbacca Chips.
Speaking to Nerdist Josh Silverman, executive vice president of global licensing for Disney Consumer Products, commented: "Star Wars is really unique. It's multi-generational. I remember the feeling I had when I got my first lightsaber… now I watch my kids play with theirs as these new characters. Watching all the fans of all ages and share in the magic and spirit of Star Wars is very special."
All this hullabaloo marks the midnight opening of stores around the world with shelves laden with a galaxy of all new Star Wars: The Force Awakens products, including a hotly anticipated black X-Wing.