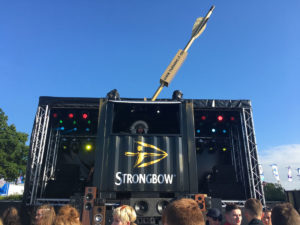 Strongbow is rounding off a summer of festival action with a huge live activation at Victorious Festival in Portsmouth on the weekend starting August 26.
The world-leading cider has created a stunning arena with a 10m high Strongbow Archer as the centrepiece. Surrounded by a DJ booth made from speakers, a bar made from a shipping container and up-cycled furniture made from crates and barrels, The Strongbow Yard is the place to chill out in the day and dance by night.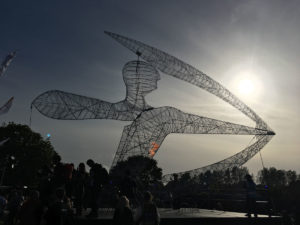 Emma Sherwood-Smith, brand director for cider at Strongbow owner Heineken, says: "From years of festival experience, we know people want to create amazing memories with their mates. As the most eye-catching landmark on site, The Strongbow Yard is the best place to meet friends and relax with a refreshing pint, making the most of their time between bands. Curated by credible British DJs, the music sets the atmosphere, changing the tempo throughout the day. As the sun sets we step things up with an impressive music-synchronised fire display until the end of the night."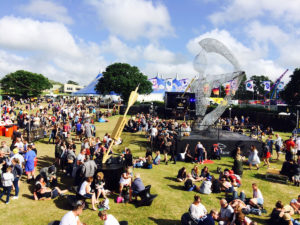 In a new collaboration with Strongbow for Victorious Festival, Radio X will also be broadcasting live from The Strongbow Yard with DJs including Johnny Vaughan and Gordon Smart, extending the reach of the festival beyond those attending.
The Victorious Festival activation concludes months of Strongbow campaign activity to help people get the most out of their festival experiences.
In April, special promotional packs of Strongbow Original, Cloudy Apple and Dark Fruit ciders began being rolled out in stores across the UK, directing people to enter the Strongbow Epic Entrance competition.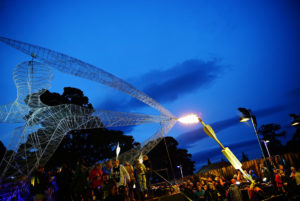 Nine competition winners and their friends were then parachuted, paraded and power-boated into their chosen festival in style.
At Victorious Festival, the third and final festival in Strongbow's integrated campaign, three Epic Entrances will take place. Competition winners will be dressed in mermaid, Queen of hearts and 90s rave attire, with entourages ranging from sumo wrestlers to gold Strongbow men. All parties will be chaperoned through the festival site ending at The Strongbow Yard for a refreshing drink of cider.
Strongbow worked with Initials, a leading independent integrated agency, across both The Strongbow Yard and the Epic Entrance campaign.
Source: Heineken