Surf, a leading fragrance detergent brand in the UK, has announced its latest brand campaign with Love Island's landslide 2018 winner, Dani Dyer. Supported by a £2m media investment, the campaign which airs on TV and digital from July, will focus on Surf's liquid and capsules detergent, by driving value in the fragrance detergent category.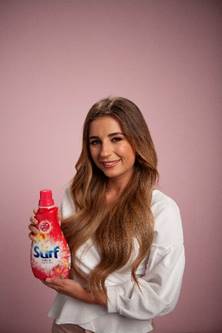 The partnership will feature across TV, online video and social media and will help to drive mass reach for the brand, with a specific focus on raising awareness with consumers under 35, a key demographic for Surf.
With the recent launch of Dani's new book 'What Would Dani Do?' in April, the timely partnership will take advantage of the Love Island star's nationwide appeal, to grow awareness of the value of fragrance detergent within laundry care.
The news follows the brand's latest fragrance launch, Surf Coconut Bliss, a nature-inspired fragrance that launched in January 2019, tapping into the ongoing trend for coconut fragrances amongst consumers.
Gemma Cleland, Vice President for Homecare, Unilever UKI said: "Dani epitomises everything that Surf stands for – she's young, fun-loving, down-to-earth and leads a busy and sociable life, making her the perfect person to front this campaign. The fragrance laundry category continues to be driving innovation in laundry – whilst injecting some fun into even the most mundane household chore. Surf has a long-standing history of working closely with British TV celebrities such as Joey Essex and the stars from Birds of a Feather, so we're excited to be going back to our roots with this tongue-in-cheek campaign."
Source: Unilever