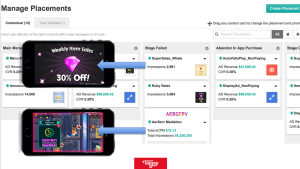 Monetisation platform Tapjoy has announced partnerships with a number of the industry's leading ad mediation companies, including MoPub, Fyber and AerServ, with the aim of bringing more sophisticated user-level segmentation and predictive analytics to their platforms.
The partnerships will enable app developers to leverage mediated ad demand in conjunction with advanced tools aimed at improving ROI and giving marketers a more refined set of targeting methods than previously available. The combination will drive optimal ad pricing and fill rates, while also ensuring that existing and predicted paying customers are not distracted by ads.
"Our goal is to give developers the unique combination of ad-tech and mar-tech tools they need to monetise their consumer audiences intelligently and effectively," said Steve Wadsworth, CEO of Tapjoy.
"Tapjoy's ad mediation strategy is to provide app developers with the ability to leverage our LTV infrastructure for serving targeted, engaging and timely ads, regardless of where the ad demand originates. Further, we are now complimenting these mediation offerings with Tapjoy's rewarded video and full screen interstitial ad services."
Within the partnerships, publishers can choose from two levels of integration, either accessing the company's rewarded video ad service via mediation partner SDKs, or gaining complete access to Tapjoy's infrastructure. The latter enables publisher partners to analyse consumer behaviour in real-time, segment audiences based on historical or predicted behaviours, and surface the optimal advertising mix for non-spending consumers.
"For successful app monetisation, app developers need to work with flexible partners that offer full-stack solutions," said Ross Barasch, senior director of global strategic partnerships at Fyber.
"Through this partnership, they'll gain access to some of the strongest monetisation platforms available – ultimately driving higher yield for their inventory."