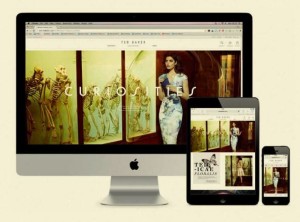 Ted Baker has reaped the rewards of an investment in mobile after seeing a 63.6 per cent surge in ecommerce sales to £22.9m year-on-year.
The fashion brand revamped its web offering to offer easier navigation and mobile optimisation, a move it credited for the sales hike in the 28 weeks ended 15 August. Overall, Ted Baker reported a 24.5 per cent uplift in sales to £226.8m compared to the same period last year while retail sales (including ecommerce) were up 20.1 per cent to £168.2m.
The British brand added that an extra focus on "rich and compelling brand and product editorial" had helped to drive incremental sales and customer engagement.
Ray Kelvin CBE, founder and chief executive, said: "This strong performance across all channels and territories is testament to the growing strength of Ted Baker as a leading global lifestyle brand. Through the passion of our team, supported by on-going and careful investment in the brand, we continue to attract customers both in the UK and overseas, who recognise our unwavering focus on quality, design and attention to detail."
Recently the brand launched a new campaign, its third on Instagram, to spread its reach in the US market as looks to win over Malibu and Hawai as well as expand its presence in both Canada and Mexico. Ted Baker is known for its unusual approach to marketing and advertising, shunning traditional ad campaigns for word of mouth.