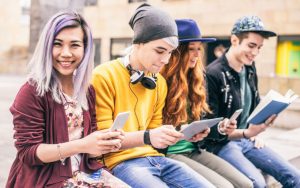 Teespring, the online commerce platform which empowers creators to design, promote and sell their own products, have conducted in depth research into the generation leading the way online – Gen Z. We are now in an era led by this powerful generation; they are not only controlling the digital sphere, but also spending habits – and not just of their own generation.
500 million hours of video are currently watched on YouTube, and there is proof that 'Kidfluencers' and Gen Z's are leading the way in watching and curating this content, wielding serious purchasing power through their parents. 73% of parents admit that they actually purchase products their kids request after seeing them online.
Teespring's research notes that Gen Zs will be largest generation of consumers by 2020, and will account for $143 billion of direct spending. 40% of creators who signed up to Teespring in 2018 to sell their own creations are Gen Z, or targeting Gen Z audiences with Merch; Gen Zs are leading the direction in which digital spending and eCommerce is going.
As a result, Teespring are working with some exciting Gen Z creators this year, including Frozen Crystal, Sora, ZODY and Aphmau, to name a few. These creators are tapping into the large market of young shoppers who purchase products, while also leading the direction in which products are designed and created.
With a multitude of new ways to purchase products, from walking ads, to shopping in apps, and with 3 times the number of consumers likely to buy if a link is embedded in a page, it's clear that this is a topic worth researching further. Consumer spending is moving at a fast pace into modern territory, and Gen Z's are at the helm.
"According to our research, digital natives – Gen Z – are naturally entrepreneurially-minded and driven to succeed, with supporting data from 2018 showing an increase in searches for monetising social media and launching side hustles at home. The Teespring platform easily lends itself to this, by enabling Gen Z e-preneurs and content creators to become successful brands from their bedrooms – without any upfront cost or risk. This is already taking form as 40% of creators who signed up to Teespring's YouTube Partnership last year were Gen Z," said Teespring's Head of Trends, Laura Ewing.
"We are also seeing an increased blur between entertainment and retail, which is quickly taking over e-commerce. Online retailers are looking to deliver a seamless, instant sale, which has led to the rise of shoppable content. When e-commerce and entertainment meet, audiences simultaneously become shoppers while watching videos online. Teespring is already reacting to this trend with its official YouTube partnership integration, the Merch Shelf – which provides a transactional layer for creators directly underneath their video posts. And its proven successful – Teespring's Merch Shelf clickthroughs are 30% higher than other traffic sources, including links in video descriptions, meaning more people are checking out creators' merch."
"The rise of fandoms and fantail (fan-retail) is something Teespring has been tracking for sometime. Fantail markets to super-fans by aiming to make them feel special in a hyper-targeted way, such as giving them insider access about new merch launches and involving them in the creative process. This kind of exclusivity generates extra hype, but also increases loyalty as well as delivering insights into what kind of products audiences want from their favourite content creators," concluded Ewing.
Source: Teespring