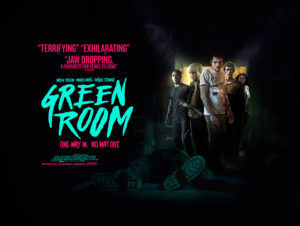 Audience first advertising agency Telegraph Hill has been appointed by UK film distributors Picturehouse Entertainment and Altitude Film Distribution to create a fully-immersive digital campaign for the UK release of Green Room, starring Patrick Stewart.
Telegraph Hill has used its audience insights around tension and fear to develop a content campaign with a central microsite for Green Room, which is now live ahead of the film's UK release on 13 May 2016.
The microsite brings the horror of the film to life through a 'Choose Your Own Adventure' style game with an immersive soundscape for added drama. Participants are put in the same situation as the characters from the film and will feel as if they are locked in a music venue's green room. Players must escape a gang of hunters by answering a series of questions against the clock. The game offers personalisation with the player's friends' names being inserted into the narrative, this is done via Facebook log-in.
Those that choose the wrong path will be 'killed off', whilst those that successfully escape the green room unharmed will be presented with options to share, watch the film trailer or buy tickets for their group of friends.
The microsite is built around organic shareability, with narrative hooks presented to players throughout the game. Telegraph Hill has used its audience insights to create tailored content for specific audience segments amongst cinema goers, film fans, horror fans and fans of Patrick Stewart, who plays the main antagonist in the film. The agency will also manage all paid-for media spend across Facebook.
Telegraph Hill built the microsite alongside independent creative agency Imaginative Cows.
Garret Keogh, managing director and co-founder at Telegraph Hill said: "Our insights revealed that horror fans want to get their pulses racing and crave adrenaline hits from moments of tension. Our campaign puts audiences right at the heart of this tension, putting them in control of the story. This will make them feel that they're a part of the film, coming away with every reason to buy a ticket to watch Green Room at cinemas across the UK. Audiences today want more than to spectate, they want to be involved. They value experiences more than possessions and Picturehouse is expertly placed to offer them exactly that."
Gabriel Swartland, director of communications at Picturehouse Entertainment said: "Bringing a film such as Green Room to life is no easy feat, especially within someone's own home. Telegraph Hill's campaign not only puts our audience first but also allows them to interact and be a part of the film way before they enter the cinema."