Toyota and The&Partnership launch a TV, VOD and social media campaign for Parasport, powered by Toyota on Friday 15th March.
Airing first, during Channel 4's The Last Leg, the launch film turns the spotlight of dramatic sports ads on to an everyday cast of disabled people; treating what happens in a local leisure centre with a reverence usually reserved for the elite few.
Gleefully cheering on all sporting abilities, it celebrates both brilliant bullseyes and missed hoops with equal importance – showing how it really is "anyone's game".
"We are extremely excited to start on this journey with ParalympicsGB. Toyota believes strongly in creating a lasting legacy for our partnerships with the Olympic and Paralympic Games and this is an important step in our commitment to make movement better for everyone. Through Parasport Powered by Toyota, we have a great opportunity to significantly improve the landscape of grassroots disability sport in the UK, helping to remove some of the barriers to getting active," said Andrew Cullis, Toyota GB Marketing Director.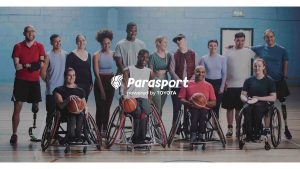 With accessibility at its heart, the campaign is a visually simple TV spot which is available with audio description for those with sight impairments, and is enthusiastically narrated by The Last Leg's Alex Brooker in his own unique style. Inclusion is an important message in this campaign, with the cast a mixture of non-disabled and disabled people of all ages.
Big type and clear visuals have been used on social media to maximise the accessibility of the campaign. Targeting disabled people, as well as their close network of family and friends, the campaign will run across Sky AdSmart, ALL4, YouTube, Facebook, Instagram, Twitter and Snapchat, to reach more than 20 million people.
Dominic Gettins, Creative Director at The&Partnership said "Some campaigns show sport in a way that puts people with impairments right off. So, the first job of this campaign is to get those who will gain most through the doors of their local leisure centre. The logic of accessibility is fundamental and has prompted Toyota to supply Audio Description with all their advertising from now on."
The&Partnership worked closely with ParalympicsGB throughout the development of the campaign to get the right message and tone across; including help with researching the ideas and our casting. Research shows that disabled people are almost twice as likely to be inactive than the able-bodied population and face a number of physical, logistical and psychological barriers.
Parasport seeks to address these challenges by encouraging people with disabilities to try something new and reap the benefits that sport and activity can offer. The online hub features detailed listings of local accessible opportunities as well as regularly updated content, hints, tips and information.
Source: The&Partnership