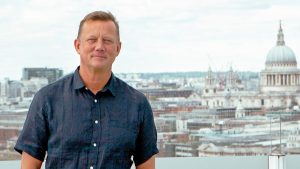 Pulse Creative, The&Partnership's on-site agency at News UK, announces the appointment of Russell Ramsey as Executive Creative Director.
Ranked the third most awarded London Creative Director at Cannes in 2017 and after 10 successful years at JWT, London, Russell temporarily took over the creative helm of Crispin Porter Bogusky, London in 2018.
Starting his career at Saatchi & Saatchi as a copywriter/art director, Ramsay quickly began to gain recognition for his work with clients such as British Airways, Allied Breweries and the NSPCC.
After four successful years at the agency he moved to BBH London, working directly with John Hegarty across brands such as Levi's Europe, Audi, Lynx/Axe, Barclays UK, Baileys, Warburtons and Paddy Power and in 2003 was made Deputy Executive Creative Director, a role he held for the next four years, before joining JWT London, in 2008 as their Executive Creative Director.
Ramsey worked on brands including HSBC, Shell, Nestle and won awards across all the leading European shows, including eight gold Cannes Lions, seven yellow D&AD pencils; and the awards most coveted accolade, the black pencil.
He was the creative director responsible for the highly awarded Ash to Art campaign for Glasgow school of Art. Listerine's 'Feel every Smile, was named Campaign's number one digital innovation in 2015.
Russell Ramsey, Executive Creative Director, Pulse Creative said "Pulse are responsible for some iconic brands, producing content in so many channels on a daily basis. This role puts me at the centre of all of that."
Launched in 2016, Pulse Creative is a 70-strong agency embedded within News UK's London Bridge Office. It is a WPP backed partnership between The&Partnership, Wunderman, m/SIX and Tag, handling creative, design, digital content creation, UX, and development, to comms planning, brand strategy, account handling, media planning and buying for The Times, The Sunday Times, The Sun, Wireless Group and the publisher's gambling and commercial businesses, Pulse Creative is a true representative of The&Partnership's collaborative integrated agency model.
'Politics, Tamed' the most recent campaign for The Times was awarded a yellow pencil in April 2019. Capturing the chaos that currently resonates within the Houses of Commons; politics has always been subject to the laws of the jungle. With so much noise and conflicting information available as Brexit edged ever closer, the British people were confused and looking for a way to make sense of the mess.
The Times and The Sunday Times have brought clarity and balance to politics since 1785, Creative Pulse sought to remind people that the newspapers offer all the guidance and analysis they need. In all of the places people would expect to see MPs, they instead saw political animals.
Animals known for characteristics we so often see in our politicians; cheeky chimps, lazy lizards and hysterical hyena's and grumpy goats. Led by a remarkable piece of film, set within Westminster, these political animals were represented across TV, London buses and taxis, social media feeds, and radio. Each execution positioning The Times and The Sunday Times (The Lion and the Unicorn) as a guide through the incomprehensible chaos.
Ramsey joins the bespoke shop to lead creative output on The Times, The Sunday Times, The Sun, Virgin radio, TalkRadio and TalkSPORT, his appointment is effective immediately.
Source: The&Partnership