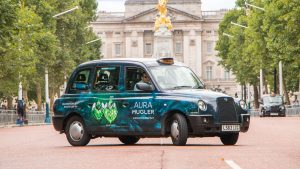 Blue 449, MPL, Posterscope, and Taxi Media have rolled out a striking new campaign to launch the new Aura Mugler Perfume range that sees a fleet of specially wrapped, glittering green taxis hit the streets across five key cities
The glitter and gloss vinyl wrapped taxis are part of a wider social influencer campaign that will give beauty influencers a fully immersive Aura Mugler experience as they are transported to special in-store events promoting the new fragrance.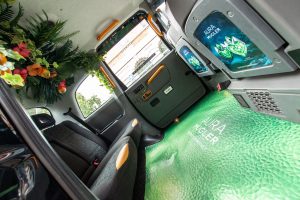 The unmissable sparkling green taxis are fully decorated outside and for the first time ever also include branded floor vinyl's.
During PR activity the interior ceiling is also decorated and each of the seats contain props for photo opportunities. Drivers are dressed in specially tailored glittering green jackets and will distribute samples to brand ambassadors and the public riding in the taxis.
The campaign is live now and runs until mid-October, alongside both interior and exterior digital taxi screens.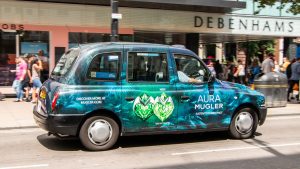 Tania Alvarez at Mugler, said: "Aura Mugler is a women's fragrance of vital energy that celebrates mystical, free and daring women, so we needed to deliver a bold, audacious and impactful campaign to support the launch of the new Aura Mugler Eau de Toilette fragrance. By creating these stunning and glittery emerald green taxis and by dressing up their interiors, we can immerse social influencers and members of the public into the world of Aura Mugler and give them an unforgettable and shareable experience."
Anne-Marie Hammond, Business Director at Blue 449, added:  "It's always exciting to create new out-of-home advertising opportunities for our clients, and we are thrilled to bring this glamorous campaign to life for Thierry Mugler. These beautifully wrapped and designed taxis, with the first ever vinyl interior floors, not only stand out on the street but also give passengers and influencers a memorable journey with the opportunity to sample the product once inside the vehicle. The taxis have also ensured influencers have more engaging content on their social channels."
Source: Posterscope